Buy a House for Sale by Owner (FSBO) in New York in 2023
Go Back To Previous Page
---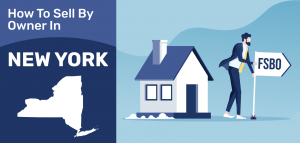 In a nutshell, homes "For Sale By Owner" in New York (known as FSBO in real estate terms) mean homeowners sell their properties directly. Owners are not using listing agents to sell their homes, and sellers are motivated to sell their houses independently to avoid paying a commission. The buyer benefits from it because there's no intermediary or listing agent. Indeed, the seller and the buyer can talk to and work with each other directly and negotiate. 
But what happens with an FSBO? We'll let you know all you need to know about for sale by owner listings.
What Exactly is A FSBO in New York?
Many prospective homeowners don't know what an FSBO is, and that's a shame because it can be gratifying.
With an FSBO, buyers can save a significant amount of money. Indeed, they don't have to pay the agent's fee, and that saving is 6 percent of the purchase price. However, this is only if the buyer and the seller don't use a real estate agent.
How Much Can a Home Buyer Save in New York?
Here's the lowdown on how much a prospective home buyer can save. Real estate agents get the typical sale commission,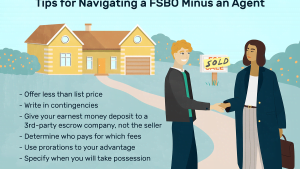 which is six percent. For a $300,000 home, the buyer saves $18,000, where the six percent comes in. However, this is not always the case.
In a typical real estate transaction, the buyer's and seller's agents split the 6% commission, and each gets a 3% commission for the sale paid by the seller. 
If the seller doesn't hire a listing agent and can forgo paying the total 6% commission, the seller can sell the home for less money, attract buyers, and may even be in the position of negotiating. In short, the savings from not paying a commission motivates FSBO sellers.
 However, if the buyer chooses to work with an agent, the seller must pay the commission to the buyer's agent.
Can Buying an FSBO Eradicate the Need for a Real Estate Agent?
Not necessarily. Usually, the seller profits the most from an FSBO and doesn't want to use a listing agent. But buyers may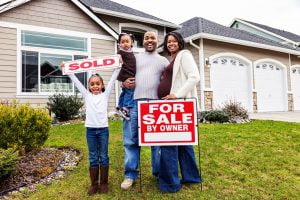 want to use an agent because they also save money. A buyer's agent is your advocate during your home-buying process.
If you have an eye on an FSBO, it's often hard to negotiate independently, given all the legal paperwork involved.
You can do it, but an agent is more effective and will negotiate to get the best deal on your behalf. 
Only an agent can analyze the market, develop accurate comps, and hire real estate attorneys…  Only an agent can oversee inspection services, title companies, appraisers, and mortgage brokers. Unless you know a lot about real estate, the massive amount of paperwork involved uses real estate jargon and legal terminology. It is the most challenging part of any For Sale By Owner transaction.
That said, the home buyer should always enlist a real estate lawyer at this point. It's in their favor to do so. The lawyer can also do a title search to ensure no liens against the FSBO home. Since the seller typically pays the buyer's agent's commission, working with one is a significant plus.
You have help during the entire real estate transaction and don't have to pay the agent a dime. 
So why would you go it alone if you don't have to?
And if you skip hiring an agent, you'll miss out on what an agent can do to help you. Remember buying a home will most likely be the highest-priced transaction you'll ever make, and the knowledge that real estate deals always go sideways will make you think twice about doing away with an agent.
There's Only One Reason to Work Without an Agent
The only scenario where you should skip the agent is if an agent won't work with you. In some cases, they don't want the liability. More importantly, the selling agent representing the buyer's interests may be reticent about a For Sale By Owner transaction. They will lose money and must do twice the work, not just take care of the client and the listing agent.
The Steps You Need to Make to Secure an FSBO Home
The mortgage lender will tell you how much money you've been pre-approved to purchase a home. With a pre-approval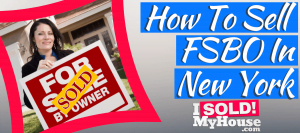 , you communicate to the seller that you're serious about buying the seller's FSBO home.
Take a Tour of the FSBO Home
Typically, a real estate agent will arrange a Home showing for you. But if you're looking at an FSBO home, the homeowner or seller will open the doors for you.
This is a serious plus because no one knows more about a house than its owner. With the seller showing you the house, you can ask questions that only an owner would know and get to see the home in more detail and intimately. 
Comps allow agents or prospective home buyers to set a fair price on a home by comparing it to other houses in the immediate area or surroundings. But they can't tell you which park is best to take your kid to, which grocery stores near the property have good discounts, which restaurants are the best to go to, and which ones you should avoid, for example.
You can get this information only by speaking directly with the owner, and not using an intermediary means finding out information you wouldn't usually have access to. 
And while you are taking a tour at the FSBO house, don't be intimidated.
Suppose you've decided that this is the forever home you've always wanted. In that case, you should open every door and inspect closets. Look at the floors to see if they are even. Turn on and off every light and faucet.
Inspect appliances like dishwashers and laundry machines and leave no stone unturned. 
Never buy an FSBO home without a home inspection. The licensed inspector will review the house's structure. For example, he inspects large appliances and more. An inspector will allow you to discover repairs or what's in shambles. 
Don't Take the Owner's Words.
A homeowner may not have the scruples that real estate agents have. For example, they may withhold information crucial to selling their homes. They may not tell you about any roof damage because they either want to stick to their purchase price or sell their homes the fastest way. This constantly happens with an FSBO, even though home sellers are legally required to divulge any problem areas.
Inflated Sense of Home Value
A homeowner may not know much about the home-buying procedure. As a result, the homeowner often prices their home way beyond what a broker would recommend. 
Review the Home Inspector's Report
After the inspector releases the inspection report, the next step is to review it.
This is why it doesn't make sense if a motivated seller tries to withhold damages from you. The inspector will always uncover what the seller may not have disclosed. So if there are necessary repairs to be made, you can use them as leverage when you begin negotiating with the seller. 
Make an Offer on the house For Sale By Owner in New York.
This step is making an offer on the Home. If you're using a real estate agent, the agent will negotiate the property's price directly with the seller. Remember, the seller may not have your best interests in mind, so they may want to stick to their inflated home price occasionally. 
You need the agent to ensure you get the best deal in this step. The agent will guide you on bidding below or above the asking price.
Close on the Home: how to buy a house For Sale By Owner
Finally, you've made it! Once you've received final approval from your mortgage lender and completed all the necessary inspections, it's time to close. This is when the Homeownership gets officially transferred from the owner to you. Remember that you should've set aside a lot of money to pay for your down payment and closing costs. 
Pros and Cons of Buying a For Sale by Owner house in New York
Pros of buying a home for Sale by Owner in New York
The seller pays for the buyer's agent.

There's no middleman to market your Home. Also, the buyer can confidently speak with the seller and negotiate the repairs needed.

An FSBO not listed on the multiple listing service (MLS) means many people won't see the listing. The unit will stay on the market for an extended period of time, often longer than a listing on the MLS. That said, there's less competition from other potential buyers. As a result, you or your agent can negotiate the Home's sale price.

Most buyers use agents. However, buying an FSBO can be done without researching and hiring the pertinent experts during a For Sale By Owner sale.
Cons of buying a home for Sale by Owner in New York
Sellers may love their Home but may want to sell it at a price based on their emotions rather than the market price. As a result, the homeowner may price the home too high. When there's interest in the house and buyers are making offers well below the seller's price, the seller may get offended by these lower offers, making a transaction more complicated. 

Sellers may refuse to pay for the buyer's agent, thereby pocketing the allocated money intended for the agent.

The buyer must hire a real estate lawyer to review the necessary paperwork and contract documents. This is an added cost that the buyer must pay. 

The buyer and seller who go solo agree that the most challenging part of selling the seller's home without an agent is insufficient knowledge of all the paperwork.
Last Words About Buying a home for Sale by Owner in New York
Getting to closing may prove exhaustive, but it has its rewards. You'll pay less to purchase a home. But you have to do the necessary research to make a reasonable offer. Find comps independently and examine the surrounding area with microscopic clarity around the FSBO.
If you choose to work with a buyer's agent, the agent can save you from overpaying or underpaying not to offend the seller. 
Ask the right questions to the right people. Reach out to your selling agent, the seller, and the inspector, so there are no surprises during your journey to the closing. You should also seek legal advice to ensure everything is legally sound.
Buying an FSBO home can be smooth sailing for everyone involved if you do these things and more. However—and this is a big one—the motivated buyer should always hire a real estate agent to simplify the FSBO process to ensure you're not getting a lemon and are not paying too much for the Home, and are getting a fair price.
---