how to avoid broker fees in NYC real estate?
Go Back To Previous Page
---
How to avoid paying broker fees in NYC? That is the question. Looking for a home can be overwhelming, especially for those who are new to NYC. NestApple is here to help explain what "broker's fee" and "no-fee" listings mean. We will make your apartment hunting more relaxing.
NYC Real Estate Market
NYC's real estate market started booming during the 1870s. Around the time of housing need explosion and office space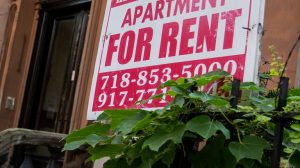 demand in Manhattan.
This process was a sizeable shift from the farmland filled land to apartment buildings and skyscraper offices.
Since this time, the market has continued to grow, along with property sales and rent price hikes.
The biggest reason for the high demand for real estate in New York City is due to its land size. Since NYC got made up of islands, it has limited space for new construction. Instead, buildings need to go up. It depends on zoning and developers' budgets. Due to scarce supply and thousands of new tenants moving to NYC every tear, NYC's real estate value, and demand keep increasing year after year.
Are you moving to New York City? Read our rent vs. buying blog post.
The New York City Broker Fee Regulations
If you've looked for a rental apartment in NYC, then you know that it can sometimes be stressful to find the perfect home.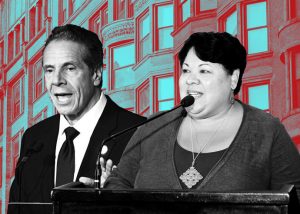 How will the new broker fee law in NYC affect your home hunting process?
A broker's fee occurs when the building's landlord does not directly lease an apartment. Instead, a broker gets recruited to represent the property. This Broker helps the landlord market their space to rent it and select a tenant. This broker fee ranges from 8% to 15% of the tenant's full year's rent.
The new broker fee regulation in NYC passed in of February 2020 limits the fee a renter will pay. The landlord will pay these broker fees unless the tenant has specifically hired a broker to find him/her space.
This ban is great news for tenants as they no longer need to pay thousands of dollars in fees. However, a week after this regulation took place, a ruling by a judge blocked it, at least temporarily. This decision means that while both sides of this regulation work to present their cases, and a final judgment gets determined, brokers can continue to collect their rental commission from tenants.
Why Do You Need a Broker? Avoid broker fees in NYC!
Since a broker's fee can be high, you may be wondering, "do I need to pay a broker fee? And why do renters pay this broker fee?"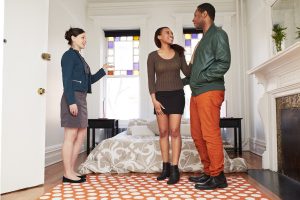 Now, if this fee is so high, then why do people still choose to use a broker to help them? This is because working with a real estate broker that helps you look up for apartments can be more comfortable for those who don't have time. Brokers are useful because they can help you navigate the confusing parts of NYC real estate. Brokers assess the best units and most convenient neighborhoods for somebody's particular needs.
Nevertheless, many times a tenant pays a broker's fee because the apartment they want to rent gets represented by a real estate agent hired by the landlord. Due to this, the Broker's fee falls upon the tenant. Even if the tenant found the apartment on his own, if the landlord has a contract with a broker, the tenant will still end up having to pay the fees.
No-fee Apartments in New York City or how to avoid broker fees in NYC
You wonder: what is a "no-fee apartment" and "how to find apartments by yourself in NYC?" Well, we're here to answer all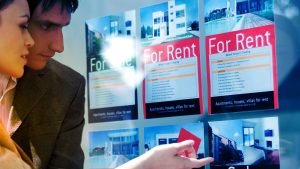 your apartment browsing questions!
A no-fee apartment is rented directly from the landlord and also includes apartments where the landlord is paying the Broker's fee.
A great way to find those deals without a broker fee is to search and filter for "no-fee units" online on Streeteasy. Listings will directly state if it is a no-fee apartment. NestApple monitors thousands of apartments and houses in New York City, ensuring you will find what you are looking for – without the broker fees, of course.
Is It Okay to Rent a unit with no agent?
While we do understand you want to avoid the expensive fee, is it safe to rent without one?
There are potential cons in looking without an agent
1. Landlords sometimes choose to pay the Broker's fee at first. And later a year from now, they raise the rent to compensate for the difference. This can be costly for the tenant in the long term if he/she stays past the yearly lease compared to paying the commission.
2. Landlords will choose to pay the fee if they need a tenant to fill the space quickly. This sometimes means there could be something wrong with the apartment, like a red flag, or even the area. Be sure to research not just the apartment, but also the building and area beforehand. This way, so you don't end up with nasty surprises after you move in!
Decided to rent without a broker? NestApple can quickly help you find the truth about any apartment or house you are looking at. Don't wait for last-minute bad surprises, and make sure to check out all the data before you sign a lease. Get insights about constructions, school districts, transportation, dining, sunlight, and much more.
Find your next no-fee apartment on NestApple right now.
---