How to Successfully Pass the NYS Real Estate Exam
Go Back To Previous Page
---
Becoming a licensed real estate agent in New York can be arduous, but you can succeed with the right preparation and practice. With a little preparation and simple tips, you can pass real estate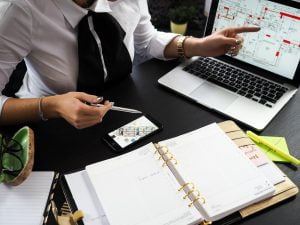 exams with flying colors. This article will give you helpful tips on how to pass the exam on your first try successfully.
Take Numerous Practice Tests
Attempting the NYS real estate practice exam is essential to becoming a successful realtor. And make sure you use a tried and true resource, like Real Estate Prep Guide, to ensure you pass the real estate exam the first time.
The best way to learn from practice exams is to treat them like the real thing. Reduce or eliminate distractions, set a timer, and focus.
Pay Attention to Real Estate Math of the NYS Real Estate Exam
Students frequently report that real estate mathematics is not their strong suit. However, mathematical skills in real estate are tested on all exams, so real estate math will be on the test regardless of which state you take it in. 
Do not leave math practice to your last day. We'll advise you to take short math tests daily to understand your strengths and weaknesses. Make separate notes about your weak points so you can revise them well before your exam. 
Familiarize Yourself With the Test-Taking Practices of the NYS Real Estate Exam
The information in your state exam preparation course should reflect what will be on the real exam, but you should also master test-taking tactics to maximize your chances of passing. Here are a few ideas to consider:
Your first objective should be to answer questions you already know the answers to

Reverse the process by eliminating all wrong answers before choosing the right option

Don't doubt your answers or overthink them

You can skip the difficult questions and come back to them later

Throughout the test, take deep breaths; not receiving enough oxygen might affect memory, and you might need to remember what you have learned

Read the full answer carefully. Avoid fluff in your solutions, as it can cause you to drift from the main response to the question
Attempt the test confidently and never doubt your abilities.
Make a Real Estate Cheat Sheet
Some people have a vast vocabulary, while others do not. An excellent study tip is to make a list of your weaknesses. Make a cheat sheet to help you study by identifying your weak points. Take your cheat sheet everywhere, whether for the laundry or the doctor's appointment.
We even recommend you bring your cheat sheet on the test day. While you wait, you can cram in some last-minute studying.
Seek the Advice of a Real Estate Broker or Agent
Real estate laws are different everywhere, so personalized coaching from a real estate expert in your area can be helpful. If you need assistance preparing for the state exam, it is recommended that you consult with a local broker or agent.
The simple act of requesting assistance from another agent may lead to new opportunities. They may even have some old real estate books they'd like to get rid of.
Endnote
By following the advice in this article, you will be well on your way to success. Remember, you can only improve by practicing. Know your strengths and weaknesses so that you can divide your time better. Do math every day and keep a cheat sheet handy.
Don't hesitate to contact a certified realtor for insight. You'll surely ace the New York Real Estate exam with consistency and dedication.
---