Do I Have To Pay A Buyer Agent's Commission?
Go Back To Previous Page
---
Let's be honest: selling a house is expensive. Heck, buying a home is costly, too. Along with all the taxes, fees, and inspections you will be required to take, you also have to pay a ton of commission. As a home seller, you might already feel you have to pay tons. Do you always have to pay a buyer agent's commission, too? Traditionally, the seller pays all agent commissions. This is because it's their home sold, and the agents help guide the sale. Seller and buyer agents generally co-broker, which means they split the commission into a lump sum. Having a home, you want to pull off the market will be tricky, even if you are looking to use a discount agent. Therefore, if you're wondering what's going on with commissions, it's best to read ahead.
Why Do Sellers Have To Pay Buyer Agent Commissions?
Does a buyer's agent get a commission?
Sellers have to pay buyer agent commissions because buyer agents do considerable legwork to sell your home, too. Buyer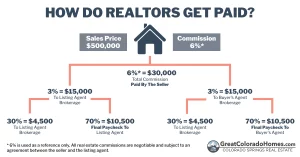 agents are the ones who tour the area, compile the offer, and help negotiate.
Of course, it's a lot of work, and they don't do it on salary, so they have to be paid on commission.
Therefore, they won't get paid if they do not receive a commission from the seller. This is precisely why co-broking is so crucial in New York City.
How Are Real Estate Agent Commissions Paid?
Who pays the buyer's agent commission?
Real estate commissions get paid as a part of the closing costs on the house, and they get paid as a lump sum sent to the seller's brokerage. They are not given directly to the agents who worked on the deal for legal reasons.
In New York City, all agents have to work underneath a brokerage. The brokerage is there to help market the properties and ensure that nobody performed any illegal activity.
Because brokers also give tools to agents, they take a share of the commission before paying the rest to the respective agents.
How Much Is A Typical Commission In NYC?
Most home sellers should expect to pay around 4 to 6 percent of the house's total price as a commission.
So if you have a $1,000,0000 home, the total commission would be $6,000.
This gets split between all the brokers and agents. If it's 50/50 down, then each person would get the following from this sale:
Buyer's Broker: $15,000
Seller's Broker: $15,000
Buyer's Agent: $15,000
Seller's Agent: $15,000
How Much Commission Does A Typical Buyer Agent Get?
Buyer and seller agents are both given similar commission structures. However, how much they'll get depends on their brokerage.
With co-broking, each brokerage will usually get 50 percent of the commission—so 3 percent goes to each side.
From there, how much your agent gets relies on your split. Most agents will get anywhere from 50 percent to the complete split of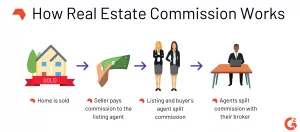 commission. However, keeping 100 percent of the commission remains relatively rare. If you look at the most common commission splits, you'll see 50/50 and 60/40 as the ones you should expect.
Are Agent Commissions Negotiable?
Yes! Commissions are always negotiable, but only to a point. Brokerages have the right to turn away a commission discount request if your ask is too low. Agents who work at meager rates might not give you the same quality of work. That's why working with the brokerage's typical rates is often intelligent.
How flexible your rates are will depend on a wide range of factors.
It depends on what the agent wants, how much work is involved, and the price of a house sold.
For example, if you're selling a home worth $20 million, people won't be too upset about working at 4 percent instead of 5 percent.
Is There Any Way To Save On Broker Commissions?
Yes, but only if you're a buyer. There is a new way to save on broker commissions in recent years: rebates.
Many firms throughout the city are now offering buyer agent rebates. This means the buyer of the new house can get money back from the commission in the form of a percentage. NestApple is one of the top brokerages to offer this.
What Happens If The Sale Falls Through Before Closing?
It's simple. No sale occurred, so no commissions were paid.
Agents will only get paid for their sales, and the same holds for brokers.
A Final Thought
If you are looking for a way to skirt the act of paying for commissions, there's not much you can do.
As a seller, you must pay the buyer commission out of the funds you get from your home. To ensure you get a sale price you enjoy, make sure to factor in the high cost of commissions. You'll be glad you did.
---