Should I renovate in NYC to Help Sell a home? – 2023
Go Back To Previous Page
---
Should you renovate your home in New York City before selling it? The answer isn't clear-cut. What is the cost of renovating an apartment in NYC? On the one hand, a renovation in NYC of your co-op or condo will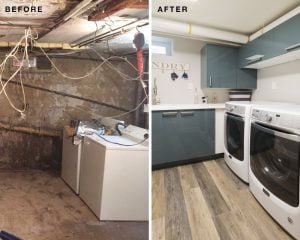 sell faster than a dated apartment that looks worn. A renovation in New York City will fetch a better offer or a higher price and even make your apartment stand out on home-buying sites like Zillow. The longer your listing sits on the market, the more people will think there's something wrong with it or that it is overpriced. This post will go over the financial and emotional average cost of a renovation in NYC (labor and materials)
On the other hand, it's not a good idea if you're selling and don't have the funds to renovate in NYC. And besides, the amount of money you can afford to do a reno may not result in you recouping your losses when you and your broker decide on the sale price of your home.
Really, to reno or not, you have to consider the type of property you are selling, the condition it's in, and how much you're willing to spend or have to pay.
There's no doubt that homeowners can benefit from renovating their apartments. But what should you renovate in New York City to make a significant, noticeable impact? And can you get away without renovating NYC by simply painting your walls? We'll let you know what you can do to increase the value of your home and how to undergo a renovation in NYC when you need a condo or co-op approval, which is specific to each type of apartment.
How Do You Decide on the Asking Price when Selling?
Work with your agent to get the right asking price, who will know about the market and your area's comps or building. And you, too, can help by checking out price history on sites like StreetEasy. Don't forget to look at apartments sold either "as is" or renovated.
What Should You Renovate in Your Home in New York City?
Before renovating, you need to know what job you are considering doing. That's why there are three types of Renos to make it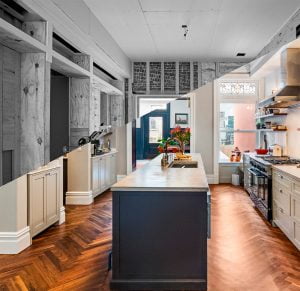 easier for you: gut, partial and cosmetic.
How much does a Gut Renovation in NYC cost?
Cost:  $100—$200 psf
Structural factors, extensive customization: $300 per square foot and up
Plumbing permits: up to $2,000 and as high as $5,000
Electrical licenses: $900
The gut renovation in NYC is when you want to alter your entire apartment. It involves moving or removing walls to make the apartment appear more prominent, have an open concept feel, or add another bedroom.
In New York, the gut has a very high price point.
When walls come down or up, many buildings will ask (read: demand) you to update what's hiding in or behind the walls, which is the electrical and plumbing. A building will ask you to maintain the integrity and infrastructure of the apartment.
These updates add hundreds or even thousands of dollars to your already-expensive gut reno. When undertaking a gut renovation in NYC, most homeowners usually add another bedroom to their condo or co-op. But that carries a lot of risks. If you have one bedroom big enough to split into two, this may help as a selling point.
But if you have one bedroom that isn't that large, squeezing one out so that you have two beds on the small side will probably disfavor you.
New York City has specific rules about making a new bedroom.
It has to be a "legal" bedroom, and you should understand all the requirements before undertaking the task. If your new bedroom has no door and no exterior-facing window, it's not a legal bedroom.
That's the general guideline, but there's more. We looked at the Housing Maintenance Code for New York City and found a legal bedroom must-have. These are:
The room has a minimum of 80 square feet;
Minimum width of 8 feet in any dimension;
A minimum ceiling height of 8 feet;
At least one window opening to a street, yard, or other outdoor space;
Two means of egress or exit, either a window or door accessible from the inside without using keys or tools;
Fire and carbon monoxide detectors;
Access to natural light (from the window);
Electrical outlets (electricity supplied via an extension cord is unacceptable).
You shouldn't add a new bedroom if you can't meet all the requirements.
What about a Partial Renovation in NYC?
Partial renovations often focus on altering one or two spaces within the apartment. Usually, this is a kitchen and bathroom upgrade. But if you can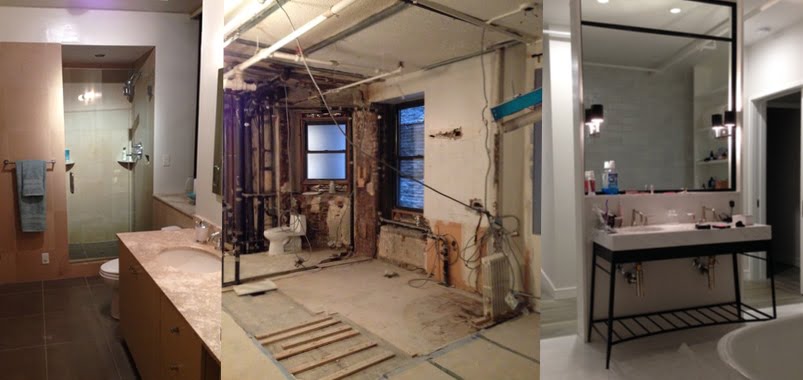 only do one reno because you lack the time or the finances, center on the kitchen.
An updated kitchen always boosts the value of your home. Unsurprisingly, buyers will pay more for high-end appliances and upgrades like changing outdated countertops.
Prospective homebuyers don't want to see white appliances, refrigerators that stick out, are not integrated into the wall for a custom look, and laminate countertops.
The kitchen is the gathering space of the house.
It used to be solely the family room. Many kitchens, especially in pre-war apartment buildings, are small and cut off from other apartment areas in the city. Suppose the kitchen feels airy, features professional appliances, and can fit an island for friends and family to gather around.
In that case, your apartment will likely sell quicker or even more than the asking price.
The bathroom renovation is just as expensive as a kitchen renovation. But like the latter, the former may raise your apartment's sale price or make it more desirable. The bathroom reno includes retooling the infrastructure, most likely to run water to the toilet, bathtub, shower, and sink.
In most cases, a large, updated shower with several water sources and features like an integrated seat and fine finishes like marble walls will substantially increase your condo value. But that takes ripping out existing tile and a total retooling of the infrastructure to get the toilet, bathtub, shower, and sink working.
What about a Cosmetic Renovation in NYC?
The cosmetic renovation is a simple touch-up with a low and affordable price point. This includes painting the walls white or neutral because homebuyers don't respond well to bright colors, removing clutter, and moving prized or sentimental possessions to storage spaces. After all, buyers can't see themselves in the apartment if your walls are lined with pictures of your family.
If you can get away with the cosmetic reno, you'll save a lot of time, paperwork to get your project approved by the co-op board or the building, money to make changes to plumbing or electrical work, and not having to acquire permits.
What to Replace in Your Kitchen
If you're putting your apartment on the market, ask yourself if your kitchen appeals to you. If it doesn't, it probably won't impress prospective home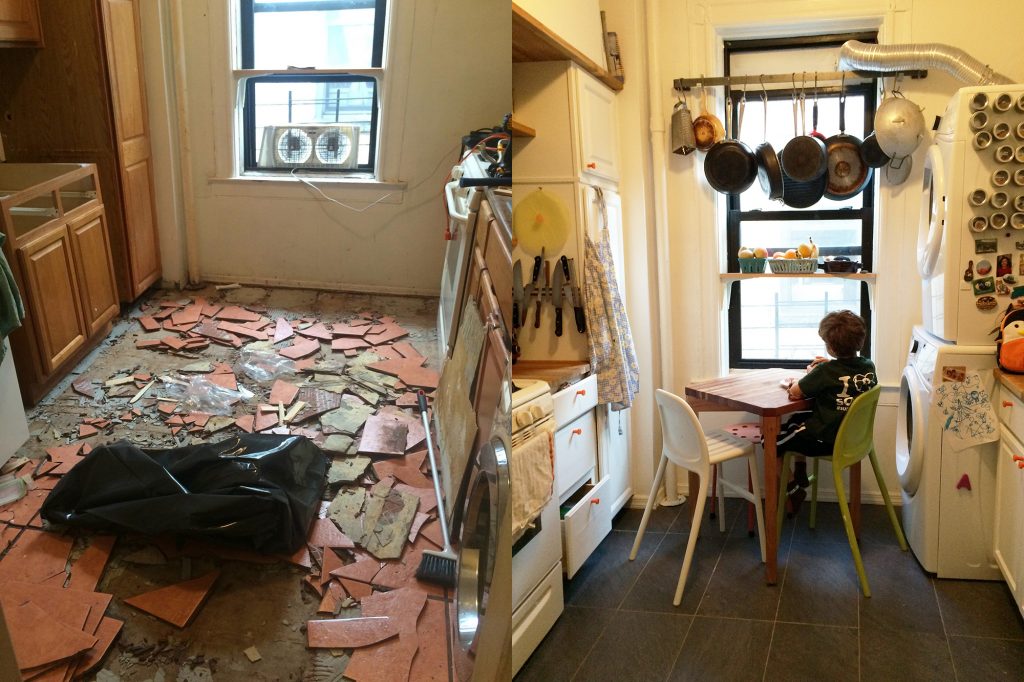 buyers. That's why renovating your kitchen can add value to your apartment and give you more chances of recouping the expenses you poured into the remodel.
A new kitchen means one less thing home buyers must take care of. So it's usually a prominent selling feature, provided it's been done right. When you renovate your kitchen, you can typically increase your sale price by 10 to 20%.
But there is always a risk, as you may not recover the entire cost of your reno or be able to sell it at a higher price point. Still, you will sell your apartment faster than if you hadn't done the reno.
Your new kitchen can't come off as cheap.
The guiding rule is that the property should tell you what to put in and what materials and finishes to use. The cost of the new kitchen should reflect the cost of your apartment. You can avoid using Ikea cabinets if you sell your one-room zero-square-foot studio. But you should splurge if you own a pre-war classic six that costs over a million.
To avoid negatively affecting your home's resale price, aim to spend 5 to 15 percent of your home's value on your kitchen remodeling project. Many home sellers assume they must pay $60,000 for a new kitchen and appliances.
But you can get away with spending half of that without shopping at expensive showrooms like the iconic and high-end Krup's Kitchen and Bath in the Flatiron District.
So what should your new kitchen include?
That will depend upon what you can afford or what you have a budget for. Here is what you should focus on.
Floors
People love wood floors, and putting them in your kitchen will make it look high-end, and tile in muted colors also works. If you can't afford wood, try to stay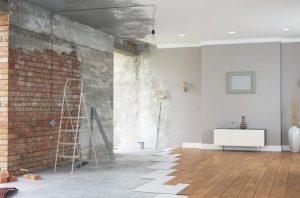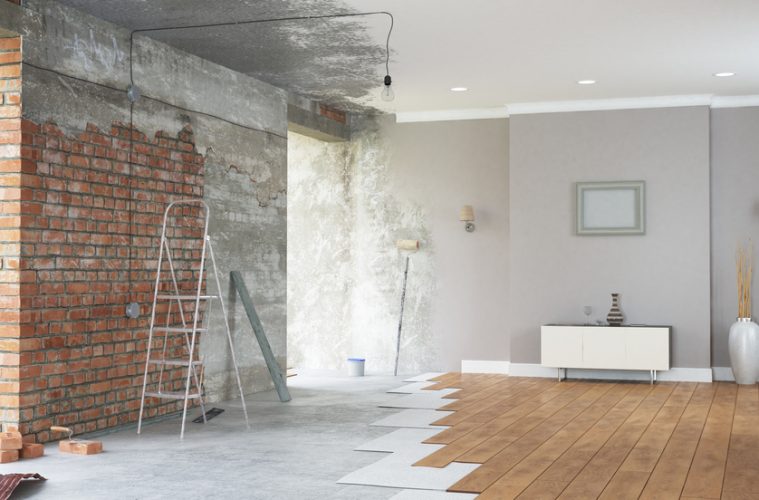 away from laminate refinishing flooring.
You will worsen your reno as the discriminating buyer can tell the difference. And since the kitchen is the most high-traffic area in your home, anyone would notice what they are stepping on.
Painting the Walls
When painting the kitchen walls, you should avoid bright colors like red or pink, which should be a no-brainer. You want a color that will appeal to anyone, not a slight fly.
That means low-key or muted colors. White, off-white, light gray and light beige will not offend prospective buyers or turn them off.
Cabinets
Cabinets are the most expensive part of a new kitchen. Since white kitchens are the rage, you should get wood cabinets painted white. To avoid the high cost of cabinets, keep the boxes and add new doors. Having some doors with glass fronts will always delight homebuyers because they make the kitchen look very custom.
Another option to avoid adding new doors is to sand your existing ones and repaint them, And don't forget to switch out the hardware. Chrome, polished, or brushed nickel works well as hardware because they match any kitchen architectural design or base color.
Just stay away from brass, as that is not universally appealing and looks flashy. Installing new hardware will make your kitchen cabinets look high-end.
Countertops
Countertops, like cabinets, can be costly too, but they are very noticeable. As such, they should be changed. For the budget-conscious, ceramic is affordable and comes in many different colors and patterns, and some even have designs that mimic granite, for example.
Or you can consider using synthetic materials like quartz and porcelain. These are affordable, resistant to heat, stains, and scratches, and no sealing is required. But if you have the money, go with granite or marble. Your kitchen will look entirely bespoke if you do.
Appliances
If you have white appliances that were all the rage in the 1980s, get rid of them. They look dated and cheap, and homebuyers want a professional look.
This means stainless steel appliances, from the refrigerator to the dishwasher and the oven to the stove. But not any stainless-steel appliance.
If you put in a gas fuel range made by Cosmo and sell it at Home Depot for around $1500 or less, you cancel out all the high-end details you just installed. Savvy buyers want the brand name, a Viking, Wolf, or Thermador range, and a Miele dishwasher, and they know the cost because they are desirable and coveted in kitchens.
For the fridge, there's only one name, and sub-Zero is the star of high-end refrigerators. Homebuyers who see your kitchen will know you spent a lot of money on the fridge.
The starting price range of a Sub-Zero is somewhere in the $7,000 range. The average fridge with no brand recognition and awareness costs between $1,500 and $2,700. Is the Sub-Zero worth it?
Well, that again depends on how much you want to spend. But note that professional appliances are always a selling point.
Integrated panels also look high-end because they make appliances disappear into the cabinets, and that could be a good choice if you want uniformity.
And homebuyers respond to paneling because it makes a kitchen look clean and streamlined.
In the bathroom, selling points are a walk-in shower with ample room to move around, some excellent lighting like wall sconces, and expanding your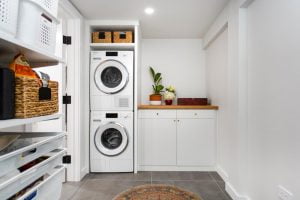 square footage to install a bathtub (a white claw-foot tub is all the rage) to keep in mind families who have babies or small children.
If you can't do any of these things, shoot for the small stuff. The result should look not only functional but also clean. So "small stuff" would mean painting the walls, putting up new tile in the shower if yours look old and grimy, reglazing a tub if you have one, buying new lighting fixtures like sconces, and changing the medicine cabinet for a newer one. You can update your sink with new fixtures if you can't change it.
Chose affordable products and material
But the products you can choose to use can be very affordable. For example, use middle-range stores like Pottery Barn and Restoration Hardware, a step above Lowes and Home Depot. You can buy a traditional medicine cabinet at RH for under $500; a single sconce costs only under $100 at Pottery Barn.
For faucet fixtures for the sink, you don't have to name-brand and by Kohler. No one will notice the difference if you get a traditional-looking widespread faucet at Pottery Barn for around $650. It's good for the budget-conscious to know that this new faucet is cast of solid brass and has a thickly plated finish for an upscale and durable look.
Unlike in the kitchen, where the appliance's brand name is proclaimed for all to see, the fixtures in the bathroom don't come with signature labeling. So you can save a lot in a bathroom reno by going generic. You may have to get an electrician to change or update the lighting, But if an electrician costs a lot, don't change a thing.
Similarly, avoid moving around a bathtub, putting in a new shower, repositioning a toilet, or adding a new sink because you'll need a licensed plumber to run new lines. You won't like the cost; a licensed plumber can cost you above $5,000.
What to Do if You Can't Afford a Renovation in NYC
If you can't afford a renovation in NYC but want to update your apartment, you can make many minor improvements that won't cost must.
Stage Your Apartment
You can stage your apartment. Please remove your old or ugly furniture, put them in storage, or throw them away, and let the stager add neutral pieces to your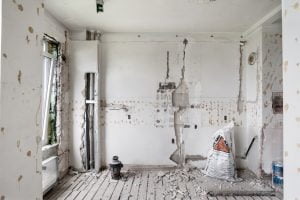 apartment that are still stylish and admirable. The cost for a New York City staging is around $10,000.
Make Sure All Lighting Works and Eliminate Extension Cords.
If you have burned-out light bulbs, replace them immediately. If you don't, there's the risk that a home buyer may think there are problems with the wiring.
You may have used extension cords because you don't have enough outlets or added them for convenience. Eliminate the ones you don't need because this, too, can make a home buyer concerned.
Repairs That Make a Huge Difference
If you have windows and doors (especially closet doors) that don't open and close properly or leaky faucets, get someone to fix these things. If there was water overflow from the apartment above you that left a stain on your ceiling, contract the drywall and paint over the stain to decrease the chance that a home buyer will think there's a leaky pipe.
Always Embrace the "Light and Airy" Look
The goal is to make your apartment look better in the home buyer's eyes. Real estate brokers agree that your apartment must look and feel light and airy after you complete minor or major adjustments. For example, that will come when you paint your walls.
Getting Approval from the Co-op Board or the Condo
New York City co-op and condo renovation rules ensure that your proposed renovations won't harm the building.
It ensures that you and your contractors have adequate insurance and maximize the likelihood that construction is orderly and considerate of fellow residents.
Renovation Considerations for Co-Ops in New York City
The alteration agreement is the most important rule that a shareholder in a co-op building must follow if undertaking a renovation in NYC. The contract between the shareholder and the co-op building prevents the formation from suffering damages during the renovation, and it's not unrealistic for damages to incur.
For example, what if you're renovating your bathroom, and the pipes must be changed or relocated? This may cause an overflow of water and result in leakage that seeps through the apartment's ceiling beneath you and damages it. Moreover, it's also likely that the building's heating and plumbing system may be compromised.
These are all damages the co-op wants to protect against. You cannot start on a reno without fulfilling all the obligations outlined in the alteration agreement. The principal duty is to inform the co-op of what the renovation entails.
This can be fulfilled by having the co-op review the drawings the shareholder's architect prepared. After the co-op approves the pictures, then an agreement is made. The reason behind getting the exact details is to protect the building if the shareholder's reno exceeds the scope of the work proposed. The drawings' approval also ensures you are not planning anything that will harm the building negatively.
Coop Building architect
Typically, the co-op building will hire its architect to review the proposed renovation and monitor the work progress as it proceeds. The co-op will almost always let you hire licensed and insured contractors. And you should always plan. Your reno may be stalled if the co-op rules the time of year your work can be done.
Also, you must be mindful of when your reno can be completed. The co-op will be concerned about the length of time your work will continue because it will affect your neighbors. For example, elevators have to be shut down for neighbors when your contractor and his workers use them.
Health concerns may be involved, such as rubble and dust getting on neighbors if they share an elevator with one of your workers who may be covered with such hazardous materials.
Security deposit for renovations in NYC
As for the finances, the co-op building will make you pay for their architect. It will also charge you a hefty security deposit to guarantee that you adhere to the scope of the work and do not deviate from it in ways that significantly alter or exceed the agreed-upon terms. The co-op can penalize you if the work is drawn out and exceeds the proposed schedule.
Besides, the board may also request that you pay the co-op board's fees to review and approve your plan. That's in addition to the board hiring their architect. These fees, taken together, will ultimately decide whether you want to proceed with the reno; you may have only budgeted for work done but hadn't considered the charges that the building imposes on you.
The rules regarding a reno for a co-op are almost the same for a reno done on a condo, and the difference is that the rules are looser in a condo renovation in NYC. For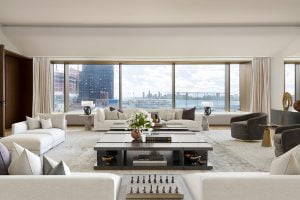 example, with the co-op, the architect will be stricter.
You may get pages and pages of comments from the architect regarding your reno that may overwhelm you and lengthen the approval time. But you have your architect on your side; give the words to them, so you don't have to worry about them.
An alteration agreement will also be in place in a condo, but it will be easier to follow than a co-op. To protect the building, the condo board will also hire an architect. If you follow the alteration agreement between a co-op board and the shareholder, you will have an easier time renovating your condo.
The Preparations You Need to Consider During a Renovation in NYC
Prepare Ahead
You should always prepare ahead before your reno starts to be on the safe side. Your electrician may arrive late at the scene, and it seems like a bit of a thing, but it's not. Any delay will derail your project.
But you can minimize any possible problems if you work with an accountable and reliable staff and recognize that a period is always up in the air.
Be Realistic About the Timing of your Renovation in NYC
Similarly, know that a reno doesn't happen in a week or two and often takes more. Your contractor can tell you how long a reno will occur and how it works in New York City. The period accounts for all the moving pieces to come together.
The owner needs to find an architect and licensed contractor before you start. It would help if you got building permits and underwent a lot of paperwork to get approval for the reno by either the co-op board or the condo. The building has to get ready for your reno.
Please pay close attention to your architect because he can do more than you think. An architect can help you apply for permits, study the condo or co-op board approval process to ensure it's up and assist you with your insurance coverage requirements.
Working During the Pandemic
Since the pandemic started, many reno projects have been shut down. But these days, buildings are beginning to allow homeowners to undergo a reno or continue with one stalled as a direct result of Covid-19. So it's important to know that you must work with your building because the building may have imposed Covid work hours and restrictions, which can delay your renovation in NYC.
Most buildings permitting Renos are stricter now. Of course, contractors and subcontractors must always use face masks and keep six feet apart from neighbors in the building. But some structures behave like doctors' offices by having workers take their temperature before they enter the building. And, of course, there's increased cleaning and disinfecting of shared spaces like hallways, floors, and elevators that contractors and workers have used or touched.
Be Prepared for Any Budget Changes during the Renovation process in NYC.
The money you've set aside for your renovation budget will always change during a reno. It's important to tell your general contractor what you can afford before he proceeds with the work. There may be problems you couldn't have conceived during your reno that will raise your budget.
Once a wall or two is down in an entire reno situation, your contractor may find that the plumbing is rotted, the electrical wires are frayed, and the wood joists are sagging if you can't afford to fix these things. Then you haven't planned. Here planning means reserving funds beyond your budget to handle surprise costs.
Don't Forget About Getting Permits before starting Renovation in NYC.
The NYC Department of Buildings requires you to obtain permits for works requiring construction or modification. This means the plumbing, the electrical, and various inspections. All these permits ad, and an. An electrical permit can cost around $900.
A plumbing permit can start at $2,000 and go up to $5,000 or even more.
Do a Background Check on Your Contractor before starting your Renovation in NYC.
A good contractor can make for a smooth sailing reno. But before you hire him or anyone working on your reno, do your due diligence.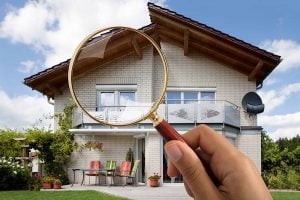 Always vet the contractors. Ask for references, see their previous work, how much they cost, and how many years of experience they have.
Also, ask if there are any fees if work can't be completed on time (usually, these fees will be imposed by the building), and always get approval about the materials you want to use.
You aim to be on the same page with the contractor for complete transparency.
Keep in mind that there are two things a contractor must have. He needs to have liability insurance and workman's comp. If frayed electrical wires somehow ruin the wiring in your neighbor's apartment, you need to know what insurance will cover that error.
You won't be responsible for the damages if it's the contractor's insurance. But to be safe, ensure your homeowner's policy protects you if a problem arises due to a contractor.
Last Words of wisdom for your home renovation in New York City
Whether gut or cosmetic, a renovation in NYC will always present your apartment in a flattering light, it will change the sale price of your home and attract home buyers. But beware of all the money you need to spend. Remember, it's not just paying the contractor and your architect but also paying for the materials, appliances. It features you plan to use and pays for all the expenses to get board approval by the co-op or condo.
Also, remember that what you spend is tax-deductible from a capital gains point of view. We also have seen sellers of renovated apartments negotiate and reduce the percentage of broker fees as the home is easier to sell. Therefore, closing costs are lower for the seller.
If you're not careful, your reno will increase in cost and take longer than agreed upon. The best thing you can do is always be cautious and know where your money is spent. Suppose you consider all these things. Your renovation in NYC will flow smoothly.
---