12 Creative Ways to Renovate a NYC Rental
Go Back To Previous Page
---
Renting an apartment in NYC has a lot of perks. Renting offers flexibility, cost savings, and a low-maintenance lifestyle compared to buying a home. However, there's one significant drawback to renting vs. buying. It's tough to personalize a rental. To renovate in NYC is expensive. NYC security deposits remain capped at one month's rent as of 2019. However, that's still a hefty sum for New Yorkers, who pay some of the highest rents in the nation. If you make alterations or a home or bathroom renovation in NYC and don't (or can't) return the apartment to its original condition, you could be out thousands of dollars. For NYC renters, that focuses on alterations that are both 100% reversible and affordable — because who wants to spend money on home renovations they can't take with them?
It's true that limits the options. You can't design your dream kitchen or replace the old, scuffed floors in a rental. However, there's a lot you can do to make an apartment your own without spending a fortune or risking your security deposit.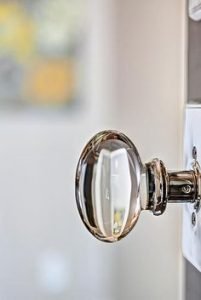 1) Fast and Easy Upgrades for Your Apartment
Renovate NYC is extremely expensive. Sometimes, the simplest upgrades are the best. These rental-friendly home renovations cost less than $50 and only take a few minutes to complete
Modernize your home's hardware
With prices as low as $5, replacing door and cabinet pulls is a cheap way to bring your dated kitchen into the modern era. For a little bit more, you can replace blah door knobs with hardware that matches your apartment's aesthetic.
Use contact paper for a kitchen facelift.
New hardware isn't enough to disguise old, beat-up countertops and builder-grade cabinets. When you want to transform your rental's kitchen, turn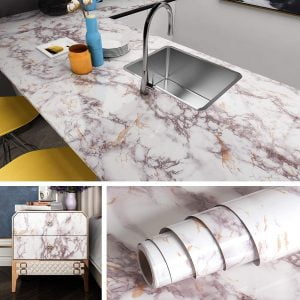 to the contact paper. Contact paper is a temporary and on-trend solution for open shelving, countertops, and even appliances.
Create the spa experience on a budget
Is it possible to turn a dingy apartment bathroom into a relaxing oasis? Create your own mini-getaway with bamboo or marbleized toilet seat, dual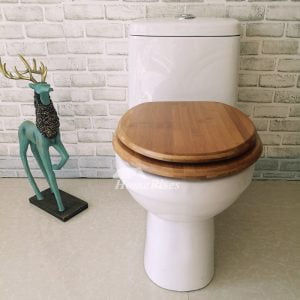 shower heads, and plush bath rugs. If you're short on bathroom storage, Target has the best decorative storage for small spaces. With a Target promo code, you won't even feel bad if it doesn't fit in your next apartment. With this tip, you can avoid a bathroom renovation in NYC.
Go green with all-natural décor
Do you long for that light and airy look in your third-floor walkup? Natural light can be hard to come by in NYC, but houseplants make any space instantly look brighter. Just be sure to choose plants that tolerate low-light conditions.
2) What Else Can NYC Renters Renovate?
These projects require a little more effort and investment, but savvy shopping tips keep them affordable for renters. Renovate in NYC is expensive; those tips will help!
Hang new light fixtures
Does it seem like every rental has the same dull light fixtures? Add personality to your space with statement light fixtures, whether you opt for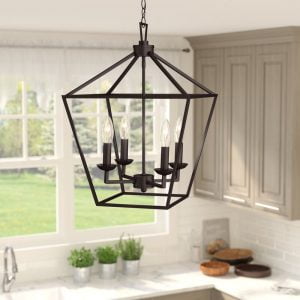 pendant lights, a swanky chandelier, or refined industrial fixtures. Vintage furniture shops and secondhand building supply stores are a great place to find unique lighting fixtures for less. If you can't find what you're looking for locally, Wayfair has tons of trendy options, and you never have to wait long for sale!
Go vertical with floating shelves.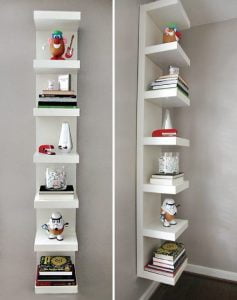 Storage space is at a premium in NYC. Rather than cluttering up your limited closet space, take advantage of vertical storage. IKEA's Lack shelves, for example, are a popular solution for budget-conscious renters. Not only are they cheap, but the invisible mounting system makes Lack shelves endlessly customizable.
Create an eye-catching accent wall
Wallpaper isn't just for your grandmother. Peel-and-stick wallpaper comes in all types of trendy prints and is the perfect fix for boring white walls. Unlike traditional wallpaper, peel-and-stick versions can be removed without damaging the underlying paint.
Invest in an area rug
Whether you want to protect your rental's floors or hide them, area rugs are a lifesaver. Instead of splurging on a brand new wool rug or settling for synthetics, shop secondhand to find a high-quality carpet for less. With a good cleaning, your rug will be good as new.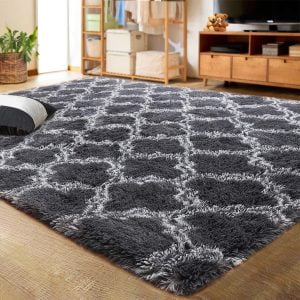 3) Interior Design for the Dedicated DIY-er
For some New Yorkers, a rental is a temporary stop on their way to purchasing a home. But if you plan on renting your NYC apartment for a long time, upgrades like these are worth the effort.
Repaint your walls
Most landlords default to a dull shade of white, leaving renters eager to repaint. However, achieving professional-quality results is more complex than it seems. If you're committed, check the mistinted paint section at Home Depot to score the perfect hue at a steep discount.
Take a good look in the mirror.
One oft-overlooked design element is the bathroom mirror. The right mirror adds drama and polish to a bathroom. As long as you choose a mirror or
medicine cabinet with the same mounting system, this swap is easy to make.
Hang window treatments (no holes required)
No one wants their entire life on display, especially not when you live in a city. But what do you do when your apartment doesn't come with window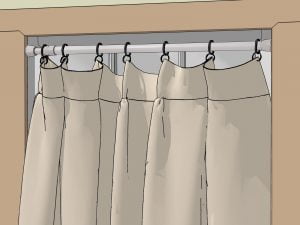 treatments, and you don't want to splurge on curtains and rods? DIY Roman shades can be made with nothing but a few yards of fabric, hem tape, and tension rods. 3M Command hooks are another cheap no-drill solution for curtains.
Remove or replace cabinet doors.
Cabinets have a massive impact on a kitchen's appearance, but as a purely cosmetic upgrade, replacing cabinets isn't high on most landlords' to-
do lists. You can avoid a full home renovation in NYC. To give dated cabinets a modern appearance, remove cabinet doors to create open shelving. If you plan on staying a while, consider buying new cabinet doors and drawer fronts and storing the old ones until you move.
You don't have to choose between the perks of renting and an apartment you're proud to call home. With creative ideas like these, you add personality to your NYC apartment and stay on your landlord's good side. And when you are ready to buy a home in NYC, you can save money on that too when you use NestApple to earn cashback on real estate commissions.
---