A Guide to Classic Six Apartments in NYC
Go Back To Previous Page
---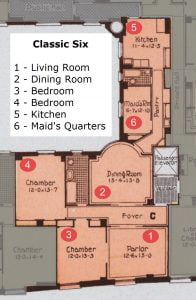 Finding a three-bedroom house in downtown New York City is nearly impossible since apartments and condos rule the real estate market. So the next best choice is a three-bedroom apartment smack dab in the heart of the city. One such option that is pretty popular is the pre-war style classic six apartment. If you're interested in learning more about buying a classic six apartment in NYC, this is the perfect place to start. In this guide, you'll learn everything you need to know about classic six apartments in NYC. We will include what they are, why people want them, the pros and cons, and if you should consider buying one. We will go over where to find classic six for sale in NYC.
A classic six or "classic 6" apartment in NYC is located in a prewar building and features large rooms, high ceilings, and wood floors. Specifically, these types of homes are commonly found on the Upper East Side and Upper West Side of Manhattan.
So let's dive right in. Here is everything you need to know about classic six apartments in NYC.
What is a Classic Six Apartment?
As the name so eloquently implies, you can probably guess how many rooms a classic six apartment has and why it's named that way. A classic six consists of six rooms. But it's not just six random rooms. A classic six apartment will always include the following:
Full kitchen
Living room
a master bedroom
a second bedroom
A maid's room is typically a smaller bedroom located off the kitchen and usually has its bathroom (full or half). A classic six can also have any number of bathrooms. But it's commonly one-and-a-half or two bathrooms in addition to the one connected to the maid's room. In essence, a classic six apartment is a three-bedroom, two-bathroom unit with a separate, formal dining room. As you can imagine, they're pretty sizable and, therefore, also pretty expensive, especially in NYC. With how big they are and how expensive they are in NYC (more on that later), why are classic six apartments desirable?
A classic five apartment usually does not have the maid's room. Whereas a classic seven apartment usually has an extra bedroom. Classic 8 apartments are scarce but often include a second maid's room. Sometimes Classic 8 apartments also have an additional bathroom as well. If you're lucky enough to find and buy a classic 7 or a classic 8 apartment, then you're in luck because these rare 3 and 4 bedroom homes are considered to be trophy properties due to their rarity. In fact, 3 bedroom apartments are rare, and 4 bedroom apartments are almost unheard of. So be happy if you own one!
Why Are Classic Sixes Desirable?
Architects designed classic six apartments for families with a living maid. Nowadays, most people aren't housing maids or servants in their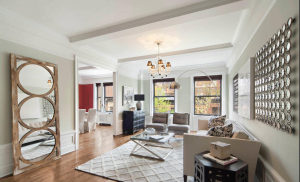 apartments. But that doesn't mean they aren't still a desirable place to live. You can find Classic 6 apartments in Co-op buildings built between the 1920s and the 1940s. Those are primarily on the Upper East Side in the Upper West Side of Manhattan. Additionally, there are some Classic 6 apartments in certain parts of Brooklyn. There are examples in Crown Heights, Park Slope, Brooklyn Heights, and Prospect Heights. They have become so popular that that developers incorporate classic 6 apartments into their projects for new constructions
Let's take a look at a few of the main reasons that classic six apartments are still desirable to this day:
Higher ceilings than most places.
Square footage isn't the only meaningful measure of space, especially where it comes at such a premium like NYC. With ceiling heights of typically at least nine feet, classic six apartments seem significantly more spacious than typical apartments with their lower 8-foot, or even 7-foot, ceiling heights.
Pre-war nuances such as moldings and oak floors.
Many people are attracted to classic six because of their high ceiling and their other aesthetics. These pre-war apartments usually have brilliant oak floors, beautiful molding, and visually appealing cornices.
Plenty of space to raise a family.
With three bedrooms (albeit the maid's room is a bit small), a classic six apartment is plenty big enough to raise a family. They're just as spacious as many two- or three-bedroom houses, but you can find these in the heart of NYC, unlike big homes!
Maid's room can serve as a great office space.
The maid's room is the perfect space for a home office. It's the ideal size for an office and usually includes its bathroom. This is the ideal space for anyone working from home.
Separate living spaces are ideal for roommates.
Although they are great options for raising a family, a classic six apartment can also be ideal for roommates since the living spaces have good separation from each other. The bedrooms are separated. There are multiple bathrooms, and the separate maid's room has its bathroom. Perfect for three roommates to have a bit of privacy!
Are There Any Downsides to a Classic Six in NYC?
Although some advantages to buying a classic six make them a desirable property choice in NYC, they have a few disadvantages. Here are a few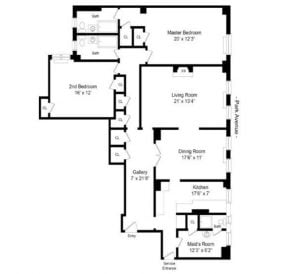 of the downsides to purchasing a classic six apartment:
Everything is separated, with no open floor plans. While we just mentioned the separate living spaces as a bonus for roommates, it's not a great floor plan for families. Not only are most sleeping spaces completely separated, but living spaces are as well. The kitchen is separate from the dining room, which is separate from the living room. In the age of open floor plans, a classic six is severely lacking.
Maid's room can be too small for a bedroom. We mentioned the maid's room is perfect for office space, but that's because it's often too small to be a legitimate bedroom. It might also be good for a younger child that wants their room, but it's not a legitimate bedroom for an adult even though you'll be paying for a three-bedroom apartment. Classic six apartments are probably not for families or individuals who prefer more flexible layouts. Additionally, the maid's room is often tiny and unusable for most families.
Expensive. Because you'll still be paying for a three-bedroom apartment, you can expect to pay a pretty penny for a classic six apartment. Units can range from a couple hundred thousand up to millions of dollars. But they'll always go for a premium just because of the third bedroom, even if it's too small to be a standard bedroom.
Should You Buy a Classic Six Apartment?
Based on everything you've just read, you should have a good idea of whether or not you want to buy a classic six apartment. But the question is, should you? That comes down to what you want to get out of your apartment and how you want your living arrangements to be in NYC. Classic six apartments are an excellent option for families and roommates. But they have a few drawbacks. Strictly financially speaking, a classic six is not a cheap apartment to buy in NYC. That said, the city is constantly growing, and property values are steadily going up. So, purchasing a classic six apartment now might end up representing a solid investment for the long-term. So start looking into classic six for sale in NYC!
---