The Top 10 building amenities That Buyers Care About in NYC
Go Back To Previous Page
---
Are building amenities vital for you? Can you give amenities examples in apartments? If you're a discerning home buyer looking for luxury real estate in New York City and its five boroughs, what do you look for in a building if they all seem alike? These days luxury buildings, new high-rises with high monthly HOAs, and new skyscape condos are all fighting for the discerning homebuyer's attention. But how do these apartment buildings attract the luxuriant homebuyer? One word: the best amenities in apartment buildings!
What amenities in apartment buildings Do Buyers Look for in New York?

Do Condos Have More Amenities Than Co-ops?

Do Properties Need Reasons for Adding on Building Amenities?

What Do Building Amenities Offer?

 The Top Ten Necessary Amenities in the apartment buildings

Here is a Look at Five Over the Top Amenities That Exist in Apartment Buildings

Here are the Top Ten Over-the-Top Amenities That Buyers Are Looking For
What amenities in apartment buildings Do Buyers Look for in New York?
These days luxury buildings, new high-rises, and new skyscape condos are all fighting for the discerning homebuyer's attention. But how do these apartment buildings attract the luxuriant homebuyer? One word: amenities. Doormen, a concierge desk, and a playroom for children are still amenities luxury buyers are looking for, but now they all seem like required standards.
The discriminating homebuyer is looking for amenities that save him time and convenience.
Homebuyers are also looking for unique amenities in apartment buildings. New condos boast amenities added during construction or by the original developer. These include a steam room, a teak sauna, a two-lane bowling alley, and an in-house IV drip.
And if you are looking to buy at 520 West 28th Street in West Chelsea, you'll be blown away by the city's first private IMAX theater. These are real amenities!
Do Condos Have More Building Amenities Than Co-ops?
Co-ops are often pre-war and thus are older and more established than condos, and they tend to have fewer amenities in apartments because they lack space. Co-op amenities, like a common room where residents can congregate or storage facilities to hold homeowners' bulky items like bikes, are essential.
Do Properties Need Reasons for Adding on Building Amenities?
There are four factors that building owners need to consider when adding on amenities:
Building owners need to ask what their existing residents want. Is putting a nanny service in a playroom a bonus when most of the building caters to wealthy millennials who have yet to settle down?
They need to know what amenities will make the building stand out and be more competitive in a city flooded with luxury apartments.
They need to have a budget. A co-op, for example, often has a slim budget allocated for an amenity that requires renovating a portion of the building. To put in a rooftop deck may sound great, but it may not be a wise choice if a building lacks funds.
They need to have space. If they do, they can add a gym to the basement. But if the area is at a premium, as it often is in New York, and building owners have to carve out space, this may be costly. Therefore, they may never recoup their losses if no one uses them.
What Do Building Amenities Offer?
When it comes down to it, amenities benefit you by saving you time. And they also give you convenience. For example, if there's a well-equipped gym in the building, this saves you time from having to ride the subway for half an hour to get to your gym, allowing for complete convenience.
With that, we put together a top ten list of amenities that all discriminating home buyers want. We based our research on sites that rank amenities in New York City apartment buildings. CityRealty, StreetEasy, The Spruce, and Blueprint, to name a few, were instrumental in helping us find the best apartment building amenities.
 The Top Ten Necessary Amenities in the apartment buildings
The Doorman
Everyone loves a doorman building. The doormen greet you and open the door for you. If you're carrying many bags of groceries, the doorman is there to assist you. They also give you a sense of security.
They keep strangers out and are strict in letting people who are friends with a homeowner but have not announced beforehand that some friends are dropping by.
Doormen, keep a set of your keys on hand in case you get locked out of your apartment. But above all, many like doormen because they accept packages on their behalf and take care of their dry cleaning.
The In-Unit Washer/Dryer
It seems surprising that just behind the doorman as a top amenity, the second top amenity is having an in-unit washer and dryer. But it shouldn't be a surprise. According to StreetEasy, the washer and dryer are essential amenities homebuyers seek, which hasn't changed for years.
Who wants to do their laundry in the basement of their building under fluorescent lights? The washer and dryer are essential if the buyer has a family or young children.
Above all, if a family has a baby, how will they clean the baby's dirty diapers? Store them in a laundry basket and wait to clean them until you have more clothes to wash. This is inconvenient and a complete waste of time.
Rooftop Deck / Outdoor Space
A must-have roof deck or outdoor space is a necessary luxury, and some homebuyers who need fresh air, sun, or grill access won't buy in a building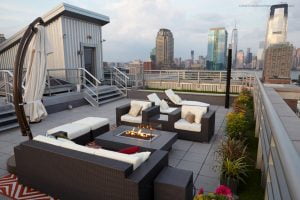 that doesn't have one.
For resale value, the roof deck is for those who want to get away from their apartment for a while but don't necessarily want to leave the building. If it's done right, with outdoor sofas with Sunbrella fabrics, umbrellas, and chaise lounges, people will flock to it, especially during warm or hot weather.
It also brings residents together and, as such, is an excellent place to meet new friends. The common space becomes a community where residents can gossip about increasing their maintenance charges; for example, a roof deck allows residents to watch the fireworks during the 4th of July and the Macy's parade during Thanksgiving if they live on CPW.
The Pool
If you like to swim when it's hot, the discriminating buyer heads to his summer home in the Hamptons. But some can't get away or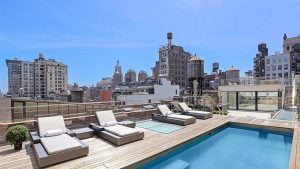 take time off. That's why a pool in your building is an attractive amenity. You can swim without leaving your building.
It's so convenient! Rooftop pools are all the rage, but there are also pools inside apartment buildings or on their backyard grounds. For example, the Mercedes House in Hell's Kitchen has not one but two pools, one indoor and one outdoors.
The In-House Fitness Center
It's often said that time and proximity are why many people don't work out at a gym. They have to schlep over to Equinox by taking a twenty-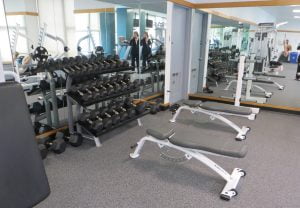 minute subway ride, and by the time they finish a short session on a Peloton bike, they look at their watch and realize they have to pick up their daughter from ballet practice right now. But an in-house fitness center saves time because you don't have to leave your building.
You're not just getting cardio machines and free weights in newly developed apartment buildings. You get a yoga room, a pilates studio, a dedicated space for a dance studio, a golf simulator room, a dedicated personal trainer, and a massive multi-purpose sports court for the athlete. Some buildings even have nutritionists on hand, a full-service spa, a masseuse, and a steam/sauna room.
Elevator
This is a necessity even if you are not a luxury buyer. Think of walk-ups where you must climb seven flights of stairs with heavy luggage to get to your apartment. Now an elevator makes sense.
Children's Playroom
Another necessity is a children's playroom.
Your nanny or babysitter can use this space daily with your small child. However, the playroom has enough kid-friendly amenities, like board games, books, and educational toys.
The area should be large enough, so your sitter and child are not on top of others, especially during the pandemic.
A Pet-Friendly Building
Many co-ops have restrictions on pets. They will allow domesticated household dogs and cats but must be under the co-op board's weight
limit. Co-ops also prohibit aggressive breeds of dogs, such as pit bulls, because they may bite your neighbors and even your children.
When looking for a pet-friendly building, see what amenities are available for your dog. For example, several new buildings include pet relief on a rooftop or in an included dog park that saves you time from walking your dog in the street.
You may also find that some buildings have pet spas, including spa treatments, grooming, and pet washing stations.
Parking
If you own a car in New York City, you know how difficult it is to find street parking. But not everyone wants their vehicle outside, which is susceptible to vandalism and inclement weather.
Most New Yorkers rent garage space for their car. But parking that's included or inside the building is more enticing.
The Dishwasher
Another amenity that surprised us was an in-unit dishwasher. But many potential homebuyers will look elsewhere if the kitchen lacks a dishwasher. A dishwasher is a lifesaver for the busy professional or a busy family with kids. You can wash dishes by hand, but this is time-consuming and inconvenient.
Besides, washing by hand wastes gallons of water. Buyers aren't looking for a basic dishwasher; they are looking for energy-efficient dishwashers because they use less water per cycle.
Here's a Look at Five Over the Top Amenities That Exist in Apartment Buildings
On-Call Sommelier Service
Only the best gleaming towers offer on-call sommelier services. With these buildings, you get your sommelier, who will be on hand on the roof deck or community space to conduct private tastings and educate you on all things wine, including how to collect it. Food pairing comes standard.
Golf Simulator
A golf simulator in a highrise is a necessary luxury for those who play golf. Buildings in New York have cutting-edge golf simulators by Full Swing Golf, allowing you to play over eighty golf courses worldwide, such as Pebble Beach and Torrey Pines.
In-House IV Drips
Room service for customized IV drips is an amenity at 40 Bleecker Street in NoHo. And it seems that it's a first in comparison to other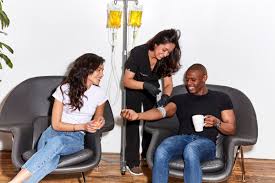 buildings. Customized IV drips can come in a vitamin package, an immune system booster, and even a hangover cure. You can get the drip in your apartment by a dedicated professional.
An Indoor Skate Park
An indoor half-pipe skate park is another over-the-top amenity in a New York City building on the Upper West Side. Home lookers who know the building specifically ask about the skate park, which ranks high on the list of luxury amenities. The skate park comes complete with a 10-foot ramp.
Space is not just for tweens and teens to skate. It's a cavernous room with a "lounge" area with seating where adults can watch people skate or listen to music. Others can use the space to play video games.
Hydrotherapy Circuit
At 1 Seaport, its top amenity is a hot-and-cold hydrotherapy circuit. Inside an all-glass tower on the 30th floor is a steam room, sauna, and a misted water passageway that leads to an indoor pool. But it's not just the circuit that makes this amenity so over-the-top, but also the views. The pool is high above the river, with 360-degree harbor views.
Here are the Top Ten Over-the-Top building amenities That Buyers Are Looking For
Amenities examples in apartment buildings and amenities to look for in an apartment building:
Screening room
Rock climbing wall
Tennis court
Indoor soccer field
In-house bar
Party room
Boxing studio
Arcade
An in-house restaurant just for residents
In conclusion, whether you want to leave by  Grand Central Terminal, the Empire State Building, Chrysler Building, or the Brooklyn Bridge, call your NestApple agent, and we will help you find a unit with the amenities you are looking for.
---