The Best Neighborhoods in Brooklyn – our NestApple Guide
Go Back To Previous Page
---
Explore the best neighborhoods to live in Brooklyn, NY. Here, we list our top 5 Brooklyn nabes, including the most walkable, the safest, and the coolest. As such, Brooklyn is quickly becoming the hottest borough in New York City, and for a good reason.
Moving to Brooklyn is the plan! The borough offers residents some truly incredible places to live. So without further ado, here's our list of the best Brooklyn neighborhoods.
Dumbo is an acronym for "Down Under the Manhattan Bridge Overpass." As such, it is a widely known and fascinating neighborhood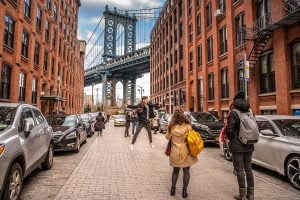 that connects Brooklyn and Manhattan. The residential market includes renovated lofts for young professionals, mixed-use converted spaces, and high-rise condos.
Additionally, there are many shops and restaurants, including the new Time Out Market, which hosts various well-known eateries and shops.
Visiting DUMBO is the perfect "photo opp," given its gorgeous skyline views and cobblestone and tree lined streets.
Dumbo tops our list. It is one of the best and among the safest neighborhoods in Brooklyn. That comes at a cost, though. It is currently one of the most expensive neighborhood in Brooklyn.
Popular Attractions in Dumbo:
Brooklyn Bridge Promenade
Juliana's Pizza, The River Cafe. Time Out Market & Rooftop
Public Transportation:
F at York Street. A, C, at High Street
2) Boerum Hill, Brooklyn
Historically, Boerum Hill was a Manhattan suburb. Today, the revitalized neighborhood is known a semi-suburban oasis. It combines a lively city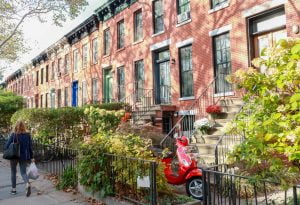 vibe and a picturesque and intimate setting more in line with suburban living. One of the highlights of living in Boerum Hill is Smith Street, and i, and it is a foodie-lovers paradise where you'll be able to explore just about every cuisine imaginable.
Finally, when it comes to real estate prices, Boerum Hill is expensive. Also, it's a great place to find a classic Brooklyn Brownstone, making it the best neighborhood for families.
Public transportation is ideal. The transportation hub known as the Atlantic Terminal is right on the tip of Boerum Hill. However, residents enjoy a calm, slower-paced lifestyle away from the Manhattan rush. If you need to get anywhere, you're a subway ride away from everything.
Regarding tourism, Boerum Hill is a popular destination for boutique shopping and restaurants on Smith Street. Notably, Nunu Chocolates has its flagship stores in Boerum Hill.
Popular attractions in Boerum Hill:
Smith Street (shopping and restaurants).
Brooklyn Academy of Music (BAM)
Public Transportation:
2, 3, 4, 5, B, D, N, Q, R, W, and LIRR (Atlantic Ave). F, G (Bergen St. Station)
3) Brooklyn Heights
Dubbed America's original suburb, Brooklyn Heights is a beautiful tree-lined neighborhood. Indeed, it's filled with cobblestone side streets and a mix of large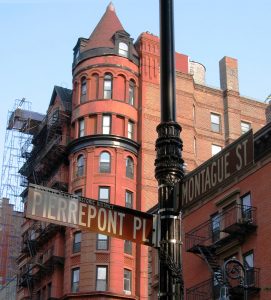 and small businesses tucked away in the middle of Brooklyn. Therefore, Brooklyn Heights is a highly picturesque neighborhood, and itd it is undoubtedly one of the best places to live in Brooklyn.
Housing in Brooklyn Heights is unique as the architectural styles are versatile, including "Gothic Revival" to 19th-century mansions. As such, many available apartments are in buildings converted from single-family homes and rowhouses.
Overall, living in Brooklyn Heights is peaceful, charming, and understated. However, while tourism is not a massive part of the Brooklyn Heights neighborhood, tourists stop by and bike to see the breathtaking Promenade, the Historical Society, and Bridge Park. In conclusion, this makes Brooklyn Heights perfect for families looking for a safe neighborhood in Brooklyn.
Popular Attractions in Brooklyn Heights:
Brooklyn Promenade, Historical Society, Brooklyn Bridge Park , coffee shops
Public Transportation:
2, 3, 4, 5, N, and R at Borough Hall. 2 and 3 at Clark Street
4) Downtown Brooklyn
Since being rezoned in 2004, Downtown Brooklyn has dramatically changed. Specifically, the 2004 zoning changes allowed taller and more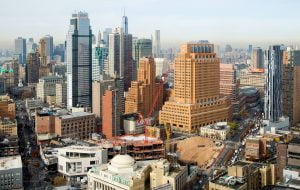 significant residential buildings to be built in formerly low-rise industrial or commercial spaces. As such, flourishing luxury new developments dominate Downtown, Brooklyn.
Right over the Brooklyn Bridge, downtown Brooklyn is genuinely a downtown area that could rival any major city outside New York City. Food and culture are at the forefront of the Downtown Brooklyn culture. Given that it is just a few stops over the Brooklyn Bridge, Downtown Brooklyn, should represent a point of interest for tourists to NYC. Also, it is one of the most walkable neighborhoods in Brooklyn.
Popular Attractions in Downtown Brooklyn:
Fulton Mall
New York Transit Museum
Barclays Center
Cadman Plaza Park, BAM Harvey Theater
Junior's Cheesecake, Dekalb Market Hall, Walt Whitman Park
Academy of Music, House of Wax
Public Transportation:
D, N, Q, R, 2, 3, 4, and 5 at Atlantic Ave-Barclays Center. The A, C, F, and G  at Jay Street/Metrotech
5) Williamsburg: the coolest among the best neighborhoods in Brooklyn
What best describes the trendiest neighborhood in Brooklyn? Hip, Artsy, Pricey, Music, and Nightlife: they are all associated with Williamsburg.
I's easy to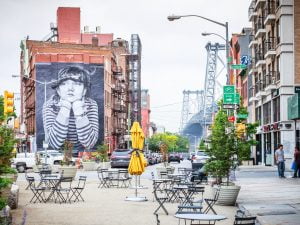 understand why Williamsburg is one of the most popular areas in the city amongst young New Yorkers. It is not only one of the coolest neighborhoods in Brooklyn, it is also one of the trendiest in all of NYC. However, living in a hip neighborhood comes at a cost, as Williamsburg is one of the most expensive areas.
For example, costly industrial loft apartments are popular. You can also find a plethora of luxury high-rises and condos on the waterfront.
During the Spring and Summer months, Williamsburg is home to the Smorgasburg festival. It is the largest open-air food market in the US, attracting over 30,000 visitors. Festival-goers can enjoy tasty bites from over 100 local vendors.
Williamsburg is a short train ride from Manhattan via the L train. Other train lines that stop in Williamsburg include the G, J, and M.
Popular Attractions in Williamsburg:
Brooklyn Bowl, Brooklyn Brewery. Walk/Bike the Williamsburg Bridge, McCarren Park
Shop Boutique Stores and Eat at Various Restaurants around Bedford Avenue
Smorgasburg
music venues with live music
Public Transportation:
L  at Bedford, G at Metropolitan, J, M Marcy Avenue
This article was a tough choice but in another blog we will talk about Bed Stuy,  Park Slope, Carrol Garden, Prospect Heights,  Prospect Park, Red Hook and Clinton Hill zs well  as other areas of Brooklyn.
---