If you live in any major city, you must consider crime risk. Unfortunately, that goes for living in NYC as well. The good news is that, based on the sheer number of daily crimes, New York is one of the safer U.S. cities. If you rate it per capita, the crime rate goes even lower. Not all NYC neighborhoods are equal regarding crime and safety, though. Keep reading to know the most dangerous ones across the New York boroughs. It will help you determine which area of the city is best for you and which you should avoid. What are the Most Dangerous Neighborhoods in New York City
Here are the most dangerous neighborhoods in New York for 2023. Some are among the most dangerous communities in America. The rankings are calculated based on the number of violent crimes per 100,000 residents for each area, compared to the New York violent crime average.
Violent crimes include murder rates, rape, robbery, and sexual assault. The most dangerous areas in New York are based on data collected from the local law enforcement agency and, when unavailable, include estimates based on demographic data.
The Dangerous Neighborhoods in New York City: Brownsville
This neighborhood in east Brooklyn is one of the city's most dangerous places and by far one of the Bronx's worst neighborhoods. It has one of the highest homicide rates and a high percentage of drug-related crimes. For some, it has some of the most dangerous streets in America.
According to the New York Department of Health and Mental Hygiene (DOHMH), the neighborhood has a much higher than national average rate of assault-related hospitalizations. There are 175 per 100,000 people, compared to just 59 per 100,000 in both Brooklyn as a whole and all of New York City together.
The last thing to note about Brownsville is that things are not improving. These statistics continue to worsen yearly, with little signs of taking a turn for the better.
Jamaica
Jamaica, in Queens, is among the worst neighborhoods in Queens. It is a neighborhood with a large commercial section and a smaller residential area. There are several small businesses in the area and many retail outlets. Jamaica has many government establishments within its borders, providing an added boost to the economy of the neighborhood and the city.
This area has a lot of unruly and very aggressive people; many of the street fights circulating on the internet originate from this neighborhood. Jamaica still has some gang-related activity, although that has dropped sharply.
Nevertheless, Jamaica is still one of the roughest parts of Queens; there is usually at least one shooting incident every month, and some result in multiple casualties. Muggings are also quite frequent, with a lot of low-level drug activity.
Hunts Point
Hunts Point is a neighborhood located on a peninsula on the East River in the South Bronx. It is home to a range of food and other shipping industries. Violent crime rates in the neighborhood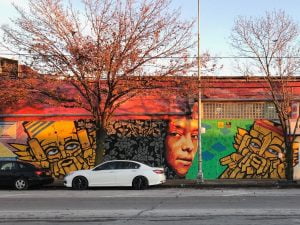 have been increasing for years. About 30 percent of the residents live below the poverty line, much higher than the NYC average.
Hunts Point also has a 12 percent unemployment rate, contributing to increased crime data. Besides having a juvenile detention center in the neighborhood, Hunts Point has a higher incarceration rate than most other NYC neighborhoods.
According to DOHMH, the rate of non-fatal assault hospitalizations trails closely behind Brownsville. There are 151 for every 100,000 people.
Mott Haven
An adjacent Bronx neighborhood, just west of Hunts Point, rounds out this list. Almost half of all Mott Haven residents did not finish high school, and only 16 percent have a college degree, contributing to higher poverty rates and crime.
It has the highest rate of non-fatal assault hospitalizations (186 per 100,000 people) of any neighborhood in the city. Violent crime is more than 300 percent of the national average in Mott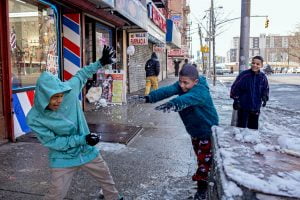 Haven. Also, its incarceration rate is almost three times that of NYC. Don't take public transportation there!
Bedford-Stuyvesant
Brooklyn's Bedford-Stuyvesant neighborhood has long been known for its crime rates. Although it's no longer as dangerous as when Biggie was rapping about "Do or Die, Bed-Stuy," the overall crime rate has increased in the past few years rather than decreasing.
Most common are robberies, motor vehicle theft, and encounters with individuals that quickly turn violent. You have to be on your toes in the Bed-Stuy area.
Your chance of becoming a victim in Bedford-Stuyvesant is about 1 in 35. The violent crime rate is about 1,065 per 100,000 people, and the average crime rate is about 2,902 per 100,000. It's one of the areas to avoid in NYC, whether you're visiting or trying to find a livable location for an extended residency in New York City.
Midtown
Midtown is one of the best places to visit, but it's also one of the unsafe areas of New York. With its massive attractions that make it a popular tourist destination, perhaps it's the same reason that pulls property crimes closer. There's Central Park, Times Square, and clusters of pickpockets and muggers.
For a neighborhood that houses 62,000 people, property crime covers 740 per 10,000 people, while violent crime covers 120 per 10,000.
East Harlem
This, perhaps, should be one of the most diversified neighborhoods in the city. Located in upper Manhattan, East Harlem has been the center for immigrants. In the past, this neighborhood, both ghetto and affluent, saw so much crime, from robberies and shootings to drug sale rings, rapes, and grand larceny.
If you ever sit and wonder: Is Harlem safe? 23rd & 25th precinct and then 129th St and 7th Avenue are to be on the lookout for crime happenings. Even the subway station around 25th St could make you feel unsafe in the Harlem ghetto.
But lately, crimes declined, with an increased number of patrol officers. So far, East Harlem has violent crimes 264% greater than the national average. Still, East Harlem's safety is more than 23% of other New York cities.
Your chance of being a victim in East Harlem is about 1 in 22 people. The average violent crime rate is about 1,616 per 100,000 people, and the average is about 4,554 per 100,000 people. With an increase in law enforcement, these numbers could soon change for the better shortly.
Fordham
Though located in the Bronx and ranked the 14th best, it is still one of the most dangerous areas in New York. With one of the smallest populations of 64,000 inhabitants, its total crime rate per 100,000 people is at an alarming 3,135. If you live in Fordham, your chances of being a crime victim are 1 in 32.
Although Fordham is partially a college town, home to a portion of the Fordham University campus, it's still one of the bad parts of New York. This Bronx neighborhood has an aggravated assault rate nearly five times the national average despite Fordham's small size. It has a separate police force for the North and South sides of the area.
Your chance of becoming a victim here is about 1 in 29. The average violent crime rate is about 1,238 per 100,000 people, while the average is about 3,569 per 100,000. Fordham is a place you want to avoid walking at night by yourself. Its crime rate has not improved over the years, so we'll see where it goes in the future.
Learn More About the Most Dangerous Neighborhoods in New York City
Now that you know which NYC neighborhoods are the most dangerous, you can decide which part of the city best suits your lifestyle. Weigh all the factors––including finding the safest NYC neighborhoods––to make the most informed choice possible.
At NestApple, we aim to simplify buying and selling homes in NYC and avoid astronomical broker fees. We represent buyers, sellers, and tenants at a third of the cost of what most firms charge. If you are considering moving to New York or live here already and want to move, contact us to learn more.