Can You Trust Zillow's Home Price Zestimate?
Go Back To Previous Page
---
Did you know that Zestimate includes details from multiple listing service (MLS) databases, market trends, and detailed house facts in the estimates formula? Americans love the Zestimate accuracy, but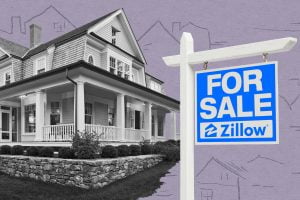 Zillow's latest business problems suggest you think twice before using the popular home value algorithm to make significant real estate decisions. Real estate is a complex and dynamic industry.
One of the biggest challenges for homebuyers and sellers is determining the value of a property. Real estate agents can indeed provide expert opinions. But they often differ from one another, and this can create confusion and uncertainty.
In recent years, Zillow's Zestimate tool has become a popular solution for homeowners and buyers looking to estimate a property's value. However, some skeptics question the accuracy and reliability of Zestimates. To help clear up confusion, we have created a Zestimate currency guide.
What Is Zillow's Zestimate?
Zestimate is Zillow's proprietary home price estimator.
Zillow does not share the exact formula for its home valuation but says it uses "statistical and machine learning models" to "examine hundreds of data points" for each home. Data points include square footage, location, mortgage rates, and the number of bedrooms and bathrooms.
The Zestimate also considers tax assessments, prior sales, and, if the home is on the market, the listing price and its availability. In the most recent update to the formula in June, Zillow says it made the estimates more responsive to market trends and seasonality.
To determine a property's Zestimate value
Zillow looks at public records, comparable sales, current housing market data, and MLS listing inventory, among other things. Their algorithm takes this information and comes up with what Zillow considers an accurate estimate of a home's selling price.
Zillow uses information from property records publicly available in most states and local multiple listing services. In most markets, real estate agents use multiple listing services (the MLS) to share information about for-sale properties. In addition to the Zestimate, one of Zillow's early innovations was making the information on these once-private databases available to anyone with an internet connection.
How Zillow Calculates Zestimates
Zillow calculates Zestimates by analyzing the sales prices of comparable homes in an area, property characteristics, and local market trends. People regularly update the algorithm to reflect
changes in the real estate market.
Zestimates are not appraisals.
Zillow Zestimates calculates a home's value based on various data points. This algorithm analyzes millions of data points to calculate an estimated value. It's important to note that Zestimates are not appraisal reports; they are only intended to be used as a starting point in determining a property's value.
Using them with other factors would be best when making real estate decisions.
Many home buyers tend to put their faith in a Zestimate.
However, the accuracy is not great. In one notable example, Zillow co-founder Spencer Rascoff sold his home for 40% less than the Zestimate value.
A professional real estate appraisal is far more accurate than a Zillow Zestimate. That Zestimate is just an estimate based on available data and will often miss vital information on a home's condition and renovations. A Zestimate cannot function as an appraisal, and you cannot use it to get a loan and should not take the value too seriously.
The more data Zillow has on a home and a market, the more accurate its estimate will be. This means the Zestimate is probably closer to the actual value in a tract neighborhood where 25 similar homes sold last year than in a town where each street is different.
Moreover, because Zillow isn't touring every home in America, it will miss things a human wouldn't. You should get an appraisal to understand a home's value.
How Accurate Are Zestimates?
The accuracy varies depending on the location and data availability. In some areas, such as New York and Dubai, where the real estate market is highly competitive and complex, Zestimates may not be as accurate as in other areas.
A Zestimate price estimate can be very accurate under the right circumstances, such as if it's on a recently sold home.
Generally speaking, Zestimate numbers on newer homes that have recently sold will be more accurate than those on older homes that haven't sold in decades. The simple fact is that Zestimate estimates are only as precise as the data derived.
Without much data, you will probably have a highly inaccurate outlier.
If the home's sale conditions aren't standard, they tend to be way off.
Zillow acknowledges that Zestimates may be off by as much as 10% in some cases. Nonetheless, it can still be a useful starting point. You can use the tool to determine a property's value, which can be especially helpful in areas lacking comparable sales data.
Is Zestimate More Accurate Than Redfin?
Zillow and Redfin claim to offer accurate home value estimates, but a Redfin estimate tends to be more precise.
The median error rate for a Zillow Zestimate is 7.5 percent higher than the property's actual value at the time of sale.
Redfin's residential home value estimator is only off by 1.5 percent from the actual sales price.
Why Do Zestimates Change?
Zestimates are never stationary, and the truth is that there are many reasons why they would end up being different from one day to the other. Here are some of the most common reasons why a Zestimate may change…
1. New Data From Various Sources
New data can get added at any time, and when it does, it will improve the accuracy of your home's Zestimate. If the system receives information about tax records, sudden home sales nearby, or an apartment rent increase, the algorithm will change its answers accordingly.
2. User-Submitted Data
More often than not, homeowners choose to add information to their house profiles. This is done to help encourage buyers, give them an accurate baseline value, and more.
3. House Going On/Off Market
One of the more exciting things that can occur with Zestimate is the change that happens when a house is bought or sold. This will change the score and force an update via the algorithm.
4. Algorithm Change
Like most other statistical features, there will always be a better way to get more accurate information. Zillow is not a company that slacks on a significant part like Zestimate. This means that they are always looking to improve their algorithm. Zestimate's algorithm can change at any moment, and it often does. Depending on how the algorithm is altered, your home may or may not show a change in pricing.
Understanding Zestimate
Even though it can be an excellent tool for determining a property's value, some of the tool's estimates are more accurate than others. Using Zestimate to determine the value of properties in rural areas can be helpful. Do you need help finding suitable properties or market homes? Don't hesitate to view our listings!
---