New York Vs Dubai: Where Is Better to Invest in Real Estate?
Go Back To Previous Page
---
Our guide will help compare New York and Dubai to make the right investment decisions in those urban areas. New York Vs. Dubai: That is the question! It's common for megacities to be quite similar at first glance: the same tall buildings, chaotic traffic, and lots of opportunities. Two cities are often compared to each other — it's Dubai and New York. They both feature skyscrapers, prevailing English speakers, good job options, and an excellent investing environment.
New York, United States, is probably the first city that comes to mind when considering investments, and however, Dubai is catching up quickly. Every year, this city attracts more and more tourists and investors, and residential real estate is a big part of investment opportunities in both cities.
The Best City to Invest in Real Estate: New York or Dubai
This article is for you if you are still deciding whether to buy property in Dubai or New York.
Why Is It Better to Invest in New York City?
New York is one of the most famous cities in the world. It is one of the cultural, financial, and media capitals, with over 8.5 million inhabitants. It is an important center for international diplomacy and cultural relations.
People from all over the world come to live in, or at least visit, this place. That's why it's an attractive opportunity for commercial estate investment.
Moreover, the city is the center of the New York metropolitan area, the most extensive metro area in the world by urban landmass. It is called New York-Newark-Jersey City, and in 2021 was populated by almost 20 million people. This area is home to many people born outside the USA, so it's a place of opportunities for real estate investors from all national and cultural backgrounds.
According to the Versus portal, New York has many benefits compared to Dubai. It has a higher average salary rate, developed infrastructure that can be used for cars and pedestrians, and many facilities like gyms, public transport, and amazing parks with the huge Central Park in the middle. The number of billionaires is also higher in New York.
Many people enjoy warm Dubai weather, but it misses the beauty of ever-changing seasons, which New York is full of. The benefits can be found in any season, when the heat sometimes becomes unbearable in Dubai, forcing people to stay in their cars and apartments.
New York vs. Dubai: Pros to Invest in New York
Overall, there are a lot of pros to living in the City That Never Sleeps. They include:
Favorable investment climate
Respect for people from all over the world
A high density of well-to-do people
Lots of tourists are willing to rent apartments
A lot of great tenants
Constantly increasing property prices
High-paying job opportunities
Increased life quality
Developed infrastructure and public transport
New York vs. Dubai: Cons to Invest in New York
However, with excellent living standards and high-paying jobs come disadvantages like:
High prices for everything — from food to real estate
Terrible traffic with constant traffic jams
Impossible to find a parking lot
High property prices, in general
A lot of homeless people and bad neighborhoods
Rising unemployment rates
Rent control schemes prohibit changing the rent price
New York vs. Dubai: Why Better to Invest in Dubai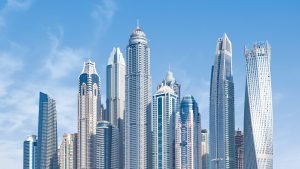 The UAE is known for its investor-friendly practices, especially for reduced taxes. Investments in Dubai are not subject to annual real estate tax, income tax, capital gains tax, rental income tax, or value-added tax (VAT). The country even has tax-free zones that have special favorable tax regimes. This allows investors to allocate a more extensive financial portfolio to purchase real estate and obtain a higher return.
The Versus portal says that Dubai is safer than New York, and it is much more affordable for the middle class — it has a lower cost of living and rental prices. The quality index of living in Dubai is almost two times higher than in NY, and the unemployment rates are much lower.
There are many colleges, universities, and excellent beaches that New York lacks. Dubai also has a higher position in the "The world's best city to live in" ranking. The warm weather allows for swimming and sunbathing all year long.
On average, real estate in Dubai is more affordable than in New York and grows in price quickly. The city also doesn't have rent control, so you can decide what price to put for an apartment and rent it out freely.
Pros to Invest in Dubai
There are pros and cons to living and investing in Dubai as well. The pros include:
Tax-free zones allow not to pay taxes in the first years
The safest country with close to zero bad neighborhoods
Developed infrastructure
High rental and sales profits
Regulated estate market
Visa facilitations for foreign investors
High living standards
Affordability for the middle class
Having said the above, Dubai isn't the wrong place either. The
crime
scene here is much better than (non-existent) compared to NYC.
Income is tax-free
. Property tax rates are lower. It's at the center of both worlds (East and West), reflecting its airport being the world's largest in terms of international passengers.
Cons to Invest in Dubai
The cons of living in this developed city include the following:
Strict requirements for becoming a citizen
High property maintenance costs
Overflow of new properties on the market and Dubai properties are less liquid
Initial Expenses of Procedure of Purchasing— a 4% fee on the property value charged by the Dubai Land Department (DLD)
Unbearably hot weather in the summer
How to Choose?
While you find contrasts in NYC, from the tall skyscrapers to the tiny winy building blocks Downtown, Dubai has done away with any of these contrasts, all in the name of development.
NYC's art and culture scene is vibrant, and it's a happening place. While Dubai does get some top bill performers for concerts, there is no underground scene, and a parallel art scene does not exist beyond a couple of galleries (Serkal in Al Qouz and Bastakiyah are trying hard to get off the ground).
Moving on to people
You will find diversity in NYC and walk into people from different backgrounds and income levels on the street, at the food cart, or in the subway. Dubai is a city split into the higher end of income, who have it all and can splurge, and then you have the blue-collar workers.
Those toil in the sun to build the tall buildings and are then transported in buses to their 'labor camps' on the city outskirts to live in rooms where they share a room with 6-8 other roommates.
You will never see any of these men within city limits except within the boundaries of a construction site.
Overall, the investment sector in these two great cities is thriving. Now might be the best time to buy real estate properties. Dubai and NY attract many people and have a high quality of life. In such cases, it is better to weigh other factors — like the size of your capital and requirements for obtaining citizenship (if you plan to get one).
The climate also plays a role here, so make sure you choose the city you'll be able to enjoy for a long time.
---