Investing in Dubai Real Estate for Vacation Rentals: Pros and Cons
Go Back To Previous Page
---
Dubai has rapidly grown and is an excellent destination for pleasure-seeking tourists and important business meetings. Affordable property prices in Damac Hills have caused an increase in investor interest in its property market, making it a prime choice for those looking to invest their money. In this piece, we'll discuss the benefits and drawbacks of putting your money into Dubai real estate for vacation rentals and Investing in Dubai Real Estate.smart.
Pros of Investing in Real Estate in Dubai for Vacation Rentals
Investing in property for vacation rentals in Dubai offers a significant advantage – high demand for short-term rentals. This is an excellent way to maximize your income by capitalizing on the ever-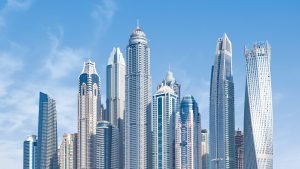 growing tourism scene in the city. The ever-growing influx of tourists and businessmen to an area can substantially benefit property investors. Investing in rental property has proven a wise choice for those seeking quality accommodation, as it offers reliable returns regarding rental yields.
Foreign investors are benefiting from the low-tax environment that Dubai has to offer, making it a great place to invest.
Dubai has become a beautiful place for investors due to its robust legal system and strong protection of property rights. Additionally, their government has created stringent laws to regulate the real estate market, such as the 10-year warranty secured for new buildings by developers. Investors can rest assured that a reliable legal system protects their investments.
Cons of Investing in Property in Dubai for Vacation Rentals
While Dubai property investments can bring great rewards, inevitable drawbacks are involved. It is essential to be aware of these to make an informed decision before taking a risk. Investing in property in Dubai can be expensive, with high initial and continuing costs. Properties in prime locations are costly, and other associated costs, such as management expenses, maintenance, and more, must be considered.
One issue that may be of concern is the variable nature of the property market. Despite Dubai's stable real estate market in recent years, there could still be a risk of oversupply and price changes that can influence your real estate's rental income and resale value.
Putting your money in real estate for vacation rentals requires investing in the tourism and economic markets. Adverse fluctuations can result in a decrease in rental demand and a reduction in property values.
Those looking to invest in Dubai real estate need to fulfill specific legal and regulatory requirements. It is essential to adhere to the regulations related to property ownership and rental income in Dubai, such as obtaining a visa. Failure to do so may result in hefty penalties and other disciplinary action.
With the remote management of properties comes a lot of responsibility. Before deciding to hire a property management firm, potential investors should take into consideration the monetary cost associated with it. This includes dealing with rental payments as well as managing upkeep and maintenance.
Importance of Using a Real Estate Agency in Dubai
For those looking to put money in Dubai property for vacation rentals, partnering with well-known and reliable real estate agencies such as AX Capital. Working with an established agency with local insights and connections can offer immense help in going through the legal and regulatory protocols and provide access to exclusive properties and investment prospects that cannot be obtained elsewhere.
An experienced agency can provide you with property management services, helping you make the most of rental income and minimize time & effort when it comes to overseeing a property from a distance. This can free up valuable resources and help streamline your business operations better. Property management services include marketing the property, handling rental agreements and payments, and coordinating maintenance and repairs. 
What Type of Property for Sale in Dubai is Better?
Investors who are looking to invest in vacation rental properties must take into account a few things. Location plays a significant role – properties located in tourist hubs or busy business areas generally generate more rental demand. Generally speaking, the more luxurious a property is, the pricier it's likely to be. This can range from size and extra amenities such as a swimming pool or outdoor area.
Vacationers visiting Dubai often opt for rental apartments in the city's downtown region due to their easy access to critical business areas and top tourist destinations. Renters are often drawn to apartments with different amenities like pools, exercise centers, and concierge services. These features can make the space a lot more desirable and convenient.
Villas in beachfront or resort areas are also famous for vacation rentals. These properties offer privacy and luxury; many include outdoor spaces like private pools and gardens. Some villas are in gated communities, offering additional security and amenities like access to secluded beaches.
Before investing in a property for vacation rentals, conducting thorough market research and assessing its potential for short-term renting is essential. Consider important factors such as local tourism trends, occupancy, and average rental rates to make an informed decision.
Conclusion
When investing in Dubai property strictly for vacation rentals, it's essential to consider the advantages and disadvantages of doing so. Investors should carefully evaluate these before making a final decision. With smart investments & the help of professional advisors, investing in Dubai's property market can be an excellent option for individuals looking to diversify their portfolios and use it as a vacation home.
---