The Cheapest Places to Live in Florida in 2023
Go Back To Previous Page
---
Florida is a large state with famous cities like Orlando and Boca Raton that attract many people moving there. It gathers some of the world's most beautiful cities in the world, which is why many are moving to Florida. These cities may be costly, but many
affordable places to live
in Florida offer similar safety and amenities. Find the top ten cheapest places to live in Florida, close to Buccaneer Bay and Weeki Wachee River.
Nestapple Methodology
We have compiled a list of the most affordable places to live in Florida by analyzing housing costs and other living expenses such as groceries, utilities, transportation, and healthcare.
We analyzed the median prices of sold homes and median rents in 2022 to calculate housing expenses.
1. Jacksonville
If you're looking for an affordable place to live in Florida, Jacksonville is a great option. Not only is it one of the largest cities in the US, but it's also situated near the state border with Georgia.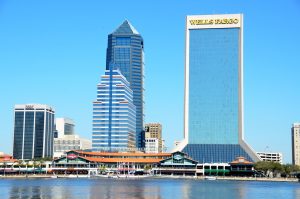 Despite its size, Jacksonville is one of the most budget-friendly cities in the area, making it an ideal choice for those who want to enjoy Florida without breaking the bank.
In Jacksonville, the median cost of a home is approximately $260,000, which is $60,000 less than the national average. The average cost of a one-bedroom apartment is around $975. Compared to other places in the US, prices are generally lower here. With a budget of approximately $1,900 per month, you can live comfortably in Jacksonville, making it the most affordable city in Florida.
Are you looking for a job in Jacksonville? You're in luck! The city boasts a low unemployment rate and a wide variety of homes to choose from, making it easy to settle in.
Plus, it's conveniently located near other major cities if you need to commute for work. Jacksonville has one of the largest total areas of any city in the United States.
Jacksonville is a beautiful city that offers various activities for families to enjoy. You can relax on the beach or catch a movie. The town boasts a zoo, excellent museums, and even a state park, making it perfect for those who love the outdoors.
Additionally, Jacksonville is affordable and has something for everyone. The options are endless, whether you prefer to explore the city or spend time by the beach.
2. Cape Coral
Cape Coral, located in southwestern Florida, is the second most affordable place to live. People know it for its affordability and safety, boasting one of the lowest crime rates in Florida.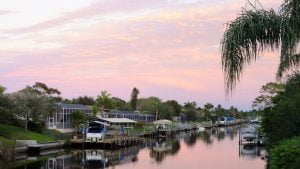 In Cape Coral, the median cost of housing is around $290,700, which is lower than the state and national averages. If you're looking for a one-bedroom apartment, it will cost you approximately $1300. This area has lower taxes so that you can keep more of your money. It's an excellent place for retirees to settle down.
Regarding expenses, Cape Coral's highest costs are transportation and groceries. However, compared to other towns in Florida, prices tend to be lower here. Living in Cape Coral is a great option, particularly if you desire waterfront living opportunities.
Cape Coral is nicknamed the "Waterfront Wonderland" due to its extensive network of canals, which means you can easily enjoy the water. Additionally, Cape Coral is close to Disney. If you're an avid angler, you can also spend your time fishing.
3. Gainesville
Gainesville, located in the northern central part of Florida, is an affordable city with two well-known schools – the University of Florida and Santa Fe College. Despite being one of the larger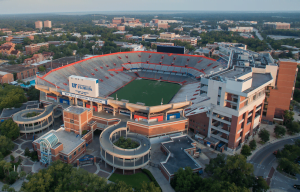 cities in central Florida, it offers a small-town feel with reasonable living costs.
In Gainesville, the median cost of a home is approximately $210,000, which is lower than the sunshine state and national averages. A one-bedroom apartment in Gainesville typically costs around $1,100. However, utilities can be pretty expensive in Gainesville.
One of the most significant advantages of residing in Gainesville is its thriving job market. Particularly within the college system, job opportunities are rapidly increasing. Anyone searching for employment in the Gainesville region can expect to discover numerous options available.
Gainesville has numerous activities, such as hiking on scenic trails, visiting public parks, and exploring beautiful lakes. Additionally, Gainesville boasts a fascinating museum that you can explore for a whole day.
4. Dade City
Dade City in Florida is an affordable place to live, which makes it an ideal option for those looking to save on expenses. Its proximity to Tampa also makes commuting to work in the city easy. Dade City may be the most affordable place to live in Florida.
In Dade City, the median cost of living is roughly $179,500, significantly lower than the state and national averages. For a one-bedroom apartment, you should anticipate paying approximately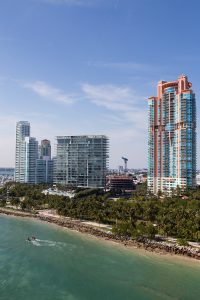 $1,372. The city offers ample space and is a secure place to reside.
Dade City has a variety of employers, making job searching easier. Additionally, it is near numerous large universities, providing opportunities for both career advancement and continued education.
Dade City offers plenty of activities to keep you busy. It's within commuting distance of Orlando and boasts numerous national parks and trails for outdoor enthusiasts. Additionally, plenty of museums and dining options exist to explore and expand your horizons.
5. Dunedin
Dunedin is a charming town that offers affordable living options for those considering settling in Florida. Its tranquil and laid-back ambiance makes it an ideal destination for those who want to live stress-free lives. The town is home to top-notch educational institutions and has a low crime rate, making it a perfect place for families.
The median home price in Dunedin is approximately $340,000; however, the market fluctuates frequently. In general, many homes tend to sell for around $245,000. You can anticipate paying around $1,100 for a one-bedroom apartment in Dunedin.
This place has excellent transportation and utility costs, with almost everything priced below the Florida average. This makes it one of the state's most affordable places to live.
Dunedin offers a wide range of activities for all types of visitors. Whether you prefer lounging on white sandy beaches or playing golf on extensive courses, you can find relaxation in this peaceful town. The annual Scottish Highland Games also provide an exciting experience for adventurous individuals and children.
6. Kissimmee
Kissimmee is an affordable city in Florida that offers proximity to the state's theme park hub. It's just a short distance from Universal Studios and Disneyworld, allowing residents to enjoy the nearby attractions without the hassle of dealing with daily Orlando traffic.
The typical price of a house in Kissimmee is approximately $265,000. Additionally, a one-bedroom apartment costs roughly $1,050, which is reasonably priced given its convenient location to other attractions.
If you have to work in the city, Kissimmee is a great location to reside in for commuting purposes. It offers a blend of affordability and value.
Kissimmee offers a wide range of activities for visitors. While driving to the Orlando attractions is an option, there are plenty of fun things to do in town. It's conveniently located near the beach and boasts delicious dining options for a night out with loved ones.
7. Bartow
Bartow is in central Florida, about fifty miles from Orlando and Tampa. It's a peaceful area conveniently located in Polk County, making it easy to commute to work if you work outside of Bartow.
In Bartow, the typical price for a home is approximately $240,000. If you're looking for a one-bedroom apartment, the estimated cost is around $900, which is lower than the national and Florida averages. Additionally, Bartow is conveniently located near the airport, making travel easily accessible.
Bartow is where most people own their homes, and it offers a great job market due to its commutability. It is a city that provides a good quality of living for the average person.
Bartow offers a wide array of exciting activities and sights to behold. It boasts numerous historical locations with breathtaking architecture for those who appreciate beauty. Additionally, it is conveniently located near state parks, themed attractions, and museums, making it an ideal destination for a fun-filled family day out.
8. Homosassa Springs
Homosassa Springs is located to the north of Tampa Bay. While it may be more rural than other options, it is still an excellent and affordable place to live, especially for those who value solitude.
In Homosassa Springs, the median cost of a home is approximately $265,000, while a one-bedroom apartment rents for around $975, below the US and national average. Therefore, we consider it an affordable location to reside.
Homosassa Springs is one of the best affordable places to live in Florida due to its quiet surroundings and proximity to other towns.
Homosassa Springs offers a variety of enjoyable activities. You can go snorkeling with stunning manatees or visit Weeki Wachee Springs State Park to witness the renowned mermaid show. Due to the thriving tourism industry, it is a great location to visit.
9. Melbourne
Melbourne is on the Atlantic coast near Cape Canaveral. The city attracts a diverse mix of tourists and year-round residents, with a higher proportion of older people and a growing number of younger residents.
The typical cost of a home in Melbourne is approximately $335,000. Compared to other areas in Florida, you can anticipate paying a relatively low amount of around $1,300. Melbourne is a prosperous location situated at the southern end of Florida.
Melbourne has youthful and mature neighborhoods, allowing you to interact with various age groups. It is a dynamic location in Florida, gaining popularity.
Melbourne offers a plethora of activities and attractions to enjoy. From visiting the zoo, exploring a theme park, and taking a kayak tour on the water, there's something for everyone. Living in Melbourne guarantees a never-ending supply of entertainment and excitement.
10. Edgewater
Next on the list is Edgewater, a town on the east coast of Florida, near Daytona Beach and Cape Canaveral. Edgewater is a charming and affordable place to live in Florida.
In Edgewater, the median cost of homes is approximately $310,000, although many have sold for around $270,000. As for rental fees, you can expect to pay about $820, one of the most affordable rates in the state and the country.
If you're looking for an excellent location for commuting to work, Edgewater could be just what you need. With a low violent crime rate, it's a safe place to live and work. Plus, plenty of job opportunities are available for those seeking work. And if you need help getting around, the public transportation in Edgewater is excellent.
Whether you're an individual or a family of five, Edgewater offers many activities. With Orlando just an hour away and beach access nearby, there's something for everyone. Edgewater is also near some of the top campsites in Florida, providing even more options for fun.
---