The Top 8 Most Dangerous Cities in the US in 2023
Go Back To Previous Page
---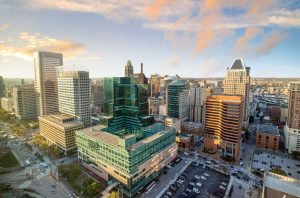 The U.S. has white sandy beaches, charming national parks, and bustling cities. Millions of people flock to the land to sample the scenic spots in the country. It is a land packed with beauty and excitement. However, with its vast size, there are cities with higher crime rates than others. The nation has over 9,833,500 km² of land.
And with a population of almost 332 million residents, it is no wonder that some areas are unsafe. If you want to uncover the eight most dangerous cities in the U.S., read on until the end!
People know the USA as a country for the free and the brave. But, with much freedom comes a lot of responsibility. Over the past few years, the crime rate in America is slowly rising, with violent crime stats increasing as 2022 continues.
1. Baltimore, MD
For those who spent many years in the country, it might be no surprise that Baltimore is first on the list. The city's ironic nickname is "Charm City," with a population of only 583,000. Yet, there were 4,653 reported violent crimes in the region. These violent crimes include murder, robbery, and aggravated assaults.
Unfortunately, that works out as almost eight per 1000 become violent crime victims. The most dangerous neighborhoods in Baltimore are Cherry Hill, West Baltimore, Greenmount East, Fairfield Area, and Pulaski.
2. St. Louis, MO
Experts rank Missouri as the fifth most dangerous state in the U.S., and St. Louis is the most unsafe city in the area. Murder, rape, robbery, assault, theft, and the number of officers are all considered. The murder rate is a standout stat in the city and state, and there was an average of 200 murders per year between 2016 and 2022.
The most dangerous neighborhoods in St. Louis are Peabody-Darst-Webbe, Hamilton Heights, Walnut Park West, and College Hill.
3. Detroit, MI
From the late 1940s to the early 1960s, Detroit was the most affluent city on the planet. It was home to big-name car factories and lavish concert halls for some of the greatest rock bands. However, 70 years later, the city has changed beyond recognition.
Detroit has been featured on Time Magazine's World's Greatest Places in 2022 under the Newfound Glory category. Despite great monetary success since filing for bankruptcy in 2013, it is still trying to combat its high crime rate and remains one of the most dangerous cities in the U.S.
Rundown stores and abandoned factories line the streets, and the city is a mere shadow of its former self.
Experts estimate that 1 in 49 people here is likely to encounter danger. The most dangerous neighborhoods in Detroit were Franklin Park, Fiskhorn, Warrendale, Von Steuben, and Greensbriar.
4. Little Rock, AR
Little Rock lies in the center of The Natural State, the area's capital and most populous city, with around 203,000 inhabitants. Fewer violent crimes are committed here than in any other city. However, due to its low population, it is the third most dangerous city for violent crime per 1000 residents.
Up to the end of 2022, over 14 violent crimes were committed per 1000 residents.
5. Birmingham, AL
Birmingham's criminality rate is 112% higher than the national average. And there are still a large number of racist crimes reported here. Surprisingly, Birmingham is not the largest city in Alabama, and most crime tends to happen in bigger cities.
However, it is only the 4th largest in the state.
6. Houston, TX
Houston may not be the most dangerous on this list. But the city receives the most violent crimes out of any other city in the United States. Because of its high population, it is only ranked as the 19th most dangerous per 1000 residents. In recent years the crime data are slowly starting to drop.
However, there are still around 20,000 violent crimes annually.
7. Memphis, TN
Memphis, the birthplace of rock 'n' roll and home of the blues, sits along the Mississippi River and has a population of nearly 700,000. While its nightlife is vibrant, it's important to be mindful of safety due to its high crime rate.
The Home of the Blues has an alarming violent crime rate of 25.1 people per 1000. And the chance of being a victim is 1 in 39. Gang violence is the most significant reason the stats here are so worrying. As there are many gangs, expect many gunfights on the streets and in public.
Moving here is much cheaper than buying a townhouse in New York, but one of the most dangerous cities to live in.
The most dangerous neighborhoods in Memphis are Shelby-Forest Frayser, Downtown, Parkway Village-Oakhaven, and White Haven-Coro Lake.
8. Albuquerque, NM
Albuquerque lies in New Mexico, less than 270 miles or a 4-hour drive to the Mexican border. People know the city for its vibrant festivals and delicious food scene. Unfortunately, the city also has a dark side. The area's property crime rate is 36.5 per 1000 locals.
The number of violent property crimes in the area is also high, with over ten incidents for every thousand people living here.
Both stats are well above the national average.
9. Oakland, CA
With a population of 433,823, Oakland has a high crime rate of 6,459 per 100,000, 175% higher than the national average and 150% higher than California. The city saw 5,714 violent incidents, including 103 murders, 2,515 robberies, and 2,730 assaults in 2022, with much of the violence attributed to gang activity. Oakland's most dangerous neighborhoods are North Stonehurst, South Stonehurst, Caballo Hills, and South Prescott.
10. Albuquerque, NM
Albuquerque is one of the most dangerous cities in America, with a crime rate of 6,356 per 100,000 people, making it 171% more dangerous than the national average. In 2022, there were 7,552 violent crimes, including 80 murders, 1,439 robberies, and 5,592 assaults, resulting in a 1 in 75 chance of becoming a victim of a violent crime. Property crime is also a major issue in the city, with 5,075 burglaries, 18,131 thefts, and 4,965 vehicle thefts reported in the same year. Quigley Park, La Mesa, Jackson Area, and Crestview Bluff neighborhoods are especially dangerous.
Avoid the Most Dangerous Cities in the U.S.
To determine the most dangerous cities in America, we looked at numerous factors, including violent crime rates and overall crimes per capita (population), to determine how difficult each city is. We also only considered larger towns with at least 200,000 residents. Even with prominent people, many cities have unusually high proportions of murders and other violent crimes.
The U.S. is a land packed with contrasts. There are several dangerous cities and downtown areas you should avoid. Conversely, there are safe cities with friendly communities you will gladly call home.
These then cities constantly rank in the top ten for most dangerous in the United States. These cities have disproportionately high violent and property crime rates (motor vehicle theft, larceny-theft). Many cities, such as Chicago and Baltimore, are major economic hubs and are safe in some areas. Knowing where you intend to visit is crucial if you plan on visiting or relocating to one of these cities.
Now you know the most dangerous places to live and where to avoid. So why not search for your dream home in a safe neighborhood? And you can live the life you deserve!
---