Why Real Estate Brokerage Firms Don't Hire Employees
Go Back To Previous Page
---
NYC real estate agents seem to have extraordinary lives. They choose their hours and which days they want to work. They make lots of money on big home sales in today's real estate market. Most people don't realize that brokerages rarely hire NYC real estate agents as employees, which means they have no salary or stable income. We will discuss the real estate brokerage fee business and how real estate brokerage firms structure it. This explains the growth of online or virtual real estate brokerages. Instead, they are independent contractors that work with an agency or a brokerage rather than necessarily for them. And all of their earnings are commission-based. There are a few different reasons why this is the case. But it benefits the real estate brokerage and the real estate agents themselves.
In this guide, we'll explain how this metric works in residential and real estateWhy the brokerages prefer it this way, and why do many agents not want to be employees? So if you're considering becoming an agent or just interested in the process, this article is for you. So let's dive in and learn about the real estate law and brokerage-agent relationship.
Real Estate Brokers: Employees or Independent Contractors?
You might scratch your head if you don't know the difference between an employee and an independent contractor. How are real estate agents getting paid if they don't work for anybody as an employee? Well, that's the thing with independent contractors, and they more or less work for themselves.
As the name implies, they are primarily independent of an employer or agency, able to do their own thing. But when it comes to real estate agents, they are still overseen by their overarching real estate brokerage. The brokerage still has to supervise the real estate agent since the deals run through the brokerage. They negotiate real estate brokerage fees and split, and agents charge a commission upon a closed sale. This is usually a percentage of the sale price.
Therefore, the agent splits their commission with the brokerage. Or we guess you could say that the other way around. The brokerage or agency splits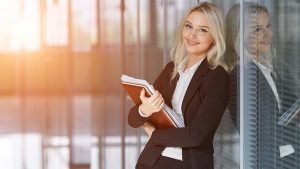 its commission with the agent that brokered the deal. The IRS provides a better term for the type of workers that real estate agents and brokers are "statutory non-employees."
Not actual employees of the brokerage, but also not fully independent contractors. This enables the brokerages and the real estate agents to skirt some labor and tax laws, and this framework benefits everyone involved.
Hiring a W-2 Employee vs. Hiring an Independent Contractor
Regardless, brokerages (such as Keller Williams) prefer that real estate agents not work as regular employees. It is significantly more challenging to do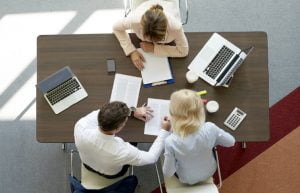 than bring on an independent contractor. Setting up a W-2 employee is far more time consuming and requires more paperwork than an independent contractor (or "statutory non-employee").
There's also more risk involved in salary, as not all agents will close deals and earn the brokerage money.
According to this whitepaper by the NAR, twenty-two state statutes permit real estate brokers to treat their real estate salespeople as contractors. The broker simultaneously exercises its mandatory supervisory duties under the law.
a) Unemployment protections
Firstly, regular employees need to have unemployment protections provided by their employers. This requires the employer (in this case, the real estate brokerage) to pay additional taxes. These taxes then go towards funding unemployment benefits. If they bring on non-employees, they don't have to pay these other taxes.
b) No payroll service
Secondly, W-2 employees must run through the payroll service that the brokerage uses. This isn't nearly as bad if the brokerage already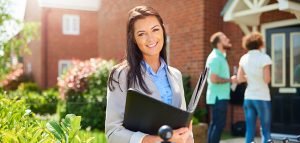 has a payroll processing company set up and ready to go. But if they didn't and were to start hiring employees, they'd need to go through the process.
Instead, bringing on some independent contractors allows the brokerages to circumvent this.
c) Statutory non-employees for taxes
The IRS considers real estate agents to be "statutory non-employees." It makes an exception for the real estate brokerage industry if three factors are met:
The real estate agent must carry a license
Substantially all payments must be directly related to their sales and not hours worked.
An agreement states that the brokerage does not treat the real estate agent as an employee for federal tax purposes.
There is no tax withholding as independent contractors receiving a 1099 form operate as their businesses. They are responsible for withholding tax themselves (i.e., through quarterly estimated tax payments). Paying an independent contractor is like paying an outside vendor. Brokerages don't need to worry about how they will handle their tax withholding or filings.
d) No workers' compensation benefits
Lastly, companies and businesses must also provide employee workers' compensation benefits. The Affordable Care Act exempts real estate brokers from offering health care coverage to their agents. Authorities designed this insurance protection to provide help and medical care to employees who are hurt or become ill due to the job.
Real estate agents travel everywhere and walk through properties, and they could get hurt occasionally. Providing workers' compensation for everyone would cost the brokerage even more. But with non-employees, they don't have to.
e) Office managers and secretarial staff might be employees of Real Estate Brokerage firms
Office managers have licenses themselves. However, they typically don't have to source and execute deals. Therefore, office managers are usually classified as employees due to their work as supervising agents.
f) Easy process of hiring an independent contractor by Real Estate Brokerage firms
Hiring an agent as an independent contractor couldn't be easier. All brokerages must associate or approve the licensee in
eAccessNY
and then execute a separate contractor agreement that will govern the parties' relationship, including commission splits, desk fees, etc. New agents who passed the state licensing exam can apply for their salesperson's license online. They can get approved the same day by their sponsoring broker. Agents changing brokers must ask their current broker to disassociate them in eAccessNY. This process can take up to 48 hours for the NY Department of State to process. Once an agent has been disassociated, they must provide their license number to their new sponsoring broker. The latter can then pay $20 and re-associate them instantly.
Real Estate Agents Prefer Not to Have a Salary
The only thing that matters is the real estate brokerage fee. Even if real estate brokerages decided they wanted to hire real estate agents as salary employees, there would be an absolute uproar. That's because real estate agents would much rather work on commission than getting paid a salary like a W-2 employee.
After all, good real estate agents don't want a consistent paycheck and want to count on themselves to sell some significant properties and cash in on that commission. Just think about it, a real estate agent could get a solid $100,000 salary.
Sounds pretty good, right? That's a great living. But what if, during that year, the real estate agent sold $10 million worth of property?
If they only collect on one side of the deal, making 3% on each sale, that would be $300,000 in real estate commission. This is before any split with the brokerage. And top agents will routinely get 75-25 splits or even higher.
Even 90-100% split firms in NYC only charge small monthly and real estate brokerage fees. So why would they prefer a salary that limits their potential versus betting on themselves to outperform that fixed salary? They can make significantly more in commission!
A drop in productivity: you eat what you kill in a Real Estate Brokerage firms
If real estate agents were salaried, it would lead to two different outcomes: bad for the industry. First, great real estate agents would have their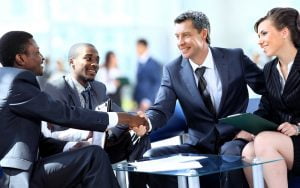 productivity drop. If their pay doesn't reflect how much they sell in property value, why would they continue to work that hard?
Second, lazy real estate agents would be even lazier. Because they can receive a salary regardless of how many sales they make.
Real estate agents join the industry to earn commission on million-dollar listings, not to make a salary. The best salespeople will always want to work for commission, and they maximize the real estate brokerage fee.
Again, these outcomes would be bad for the real estate industry. And these are the big reasons real estate agents prefer to work on commission rather than for a salary. Earning potential is unlimited when working on commission, and t, and t, and the better you do, the more you make. A salary limits their ability to earn money and leads to laziness and lower productivity in the long run.
---