Our Guide to the NYC Mansion Tax
Go Back To Previous Page
---
If you are planning on buying a home in New York, there's a good chance you'll be paying a mansion tax, as this tax applies to all homes that sell for over $1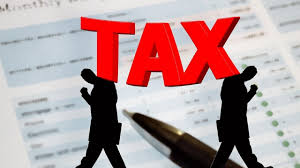 million in the state. Additionally, in 2019, authorities introduced a new progressive mansion tax in NYC. For these reasons, we decided to write the ultimate guide to the NYC Mansion Tax.
That means that if you purchase a property for $1 million, you'll be paying a $10,000 mansion tax. If, however, you are buying the property for $999,000, no tax will be due. For this reason, you'll find that many NYC properties are priced just below $1 million, while the few properties priced for exactly $1,000,000 will generally sell for a few bucks below that.
How Much is the NYC Mansion Tax?
Initially, the mansion tax was a statewide 1% tax on all properties sold for $1 million or more. In 2019, legislators passed a bill that introduced a new,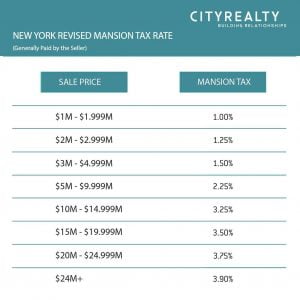 progressive mansion tax in New York City. The NYC rates increase to 3.9% on properties that sell for $25 million or more. You can view the rates below. You can calculate your potential mansion tax bill with our NYC buyer closing cost calculator.
| | |
| --- | --- |
| Purchase Price | NYC Mansion Tax Rate for Fiscal Year 2020 |
| $0 – $999,999 | No Tax |
| $1,000,000 – $1,999,999 | 1.00% |
| $2,000,000 – $2,999,999 | 1.25% |
| $3,000,000 – $4,999,999 | 1.50% |
| $5,000,000 – $9,999,999 | 2.25% |
| $10,000,000 – $14,999,999 | 3.25% |
| $15,000,000 – $19,999,999 | 3.50% |
| $20,000,000 – $24,999,999 | 3.75% |
| $25,000,000+ | 3.90% |
Who Pays the Mansion Tax in NYC?
The mansion tax is the buyer's responsibility, and it is due within 15 days of the closing.
Guide to the NYC Mansion Tax: Can You Avoid Paying the New York City Mansion Tax?
While this tax applies to all properties, whether they're condos, co-ops, or townhouses, there are some strategies to avoid or the mansion tax and other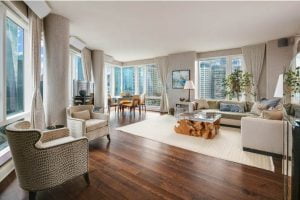 buyer closing costs.
– the best way to reduce your closing costs when you purchase a home in NYC is with a commission rebate. You'll be getting a 2% rebate, which will more than cover the mansion tax costs on a $1-2 million home. Even if you found the house yourself, bringing in a buyer broker to represent you is likely in your best interest without a broker. It's a common misconception that buyers think they'll get a better deal if they're unrepresented, but the truth is that the seller's broker will collect a larger fee in most cases.

Use a rider-

Another way to mitigate the mansion tax is to use a rider to purchase some of the apartment furniture. This shouldn't be abused (for example, you might be able to buy $10,000 of furniture to bring a home down to $999,000 instead of $1,009,000, but trying to purchase $100,000 of furniture will likely set off red flags. Regardless, you should consult your real estate attorney.

Ask the seller to pick up the tab.

– Everything's negotiable in NYC, and if you're purchasing when the market is soft, you can certainly ask the seller to cover the NYC mansion tax. Your broker can advise if it makes sense to ask for this or if it would only be better to offer a lower price.
You might also be asking yourself if you can pay for some of the seller's closing costs to avoid the mansion tax, but this won't work. For example, if you're purchasing a sponsor unit and picking up the transfer taxes, those will be tacked to the purchase price when calculating any potential mansion tax. If you have any additional questions, please contact us after you read this guide to the NYC Mansion Tax!
How and When Do You Pay The Mansion Tax?
While the New York City mansion tax is technically due within 15 days of closing, you should expect to pay it on your closing date. If you're closing on a co-op property, the seller's real estate attorney will collect the tax and send it to the county clerk. If you're purchasing real property (a condo or a house), the tax will be collected by your title company, who will then send it to the county clerk.
What is the Future of the NYC Mansion Tax?
The mansion tax truly was a tax applied to "mansions" back in 1989 when Governor Cuomo's father introduced it. However, authorities never adjusted the tax for inflation. It became a tax on virtually any condo in Manhattan. Adjusting for inflation, $1 million in 1989 is over $2 million today. And let's be honest, who would call a $1million studio a mansion? Yet, even with this in mind, it's unlikely that the tax will change soon as authorities recently expanded it.
Mayor De Blasio Has Tried to Change the Laws
Twice during his tenure as Mayor, Bill De Blasio has proposed reforms to the NYC mansion tax. In 2015 he proposed changing the tax law to only apply to properties that sell for more than $1.7 million. State lawmakers rejected the proposal, and in 2017, he tried again, this time proposing to raise the tax to 2.5%, but to only have it applied to properties that sell for $2 million or more. The proposal got also rejected, and considering the recent expansion of the tax last year, it's doubtful that we'll see any adjustment to account for inflation.
---