What Is Co-Broking And How Do Agents Co-Broke in 2023?
Go Back To Previous Page
---
In a typical home sale, you hire a real estate agent from a brokerage, and the deal gets pushed through. Each party in the real estate transaction will have the right to their agent. When all this goes down, you will hear a term called "co-broking" or "co-broke" in real estate investing. But what does that term mean, and how to do it? Co-broking is a term used to label when people have to split commissions between brokers via a co-broker agreement. This typically means that one broker represents the buyer. Another broker represents the seller. This ensures all parties get their commission. If you have a deal where the phrase co-broking comes up, it's often a little concerning.
Understanding co-broking is crucial in real estate, especially if you're considering estate agent jobs. Whether aspiring to become a real estate agent or currently on the job, knowing how co-broking works can help you navigate transactions smoothly and receive your rightful commission. So, if you're looking to excel in estate agent jobs, gaining expertise in co-broking practices is a valuable skill to have.
Don't worry; this concept is pretty easy to explain.
What Is Co-Broking?
Co-broking is splitting commissions, meaning that more than one broker has played a part in pushing a transaction through. Most transactions in residential and commercial real estate around New York City involve more than one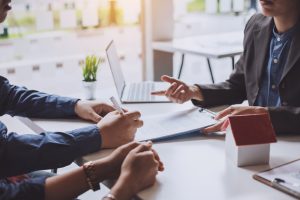 broker, so it's safe to say that most deals are co-broked, and two agents work on it.
If the buyer does not have a separate agent, the listing agent will represent both parties under a dual agency and collect the entire commission.
How Does Co-Broking Happen?
There generally is not more than one buyer's agent on a real estate transaction, nor is there more than one seller.
The seller decides to sell their home and chooses to sell their house via a real estate brokerage. We all have seen FSBO sales; however, most people don't want to go that route since it's a lot of work, and you don't always get a reasonable purchase price.
A person who is buying a home decides to hire a buyer's agent. The buyer's agent working for a brokerage firm will help them look for a home and represent them in the transaction.
The purchase broker contacts the seller broker and gives them a co-broking agreement. This will be an act of goodwill and ensure all parties receive their commission. These are the broker fees they talk about. Sometimes, they sign a one-time showing agreement.
The buyer's broker submits an offer on the house, and the sale pushes through. Once the deal closes, the two brokers split the commission.
Must All Agents Co-Broke?
Here's something to be aware of. Legally, your selling agents must respect the right to find a buyer. However, a listing agent must not split the commission with the buyer's agent unless a pre-existing agreement exists.
So they don't have the right to tell you not to work with a particular buyer. However, they do not have to agree to a co-broking contract, which can make your agent less willing to work with them. With that said, there are a couple of things that New Yorkers need to know:
Most real estate agents of the same MLS (multiple listing services) will have an automatic co-broking agreement. This is common with the REBNY RLS system. There is also an RLS Universal Co-Brokerage Agreement. You must co-broke if you and the other broker are members of the same RLS.
Most RLSs also require a co-broke split of at least 50 percent toward the buyer's agent. That's a fair way to ensure everyone gets paid and keeps the real estate industry in NYC alive, and this can put a dent in what real estate agents make in NYC.
If the buyer or seller agent is not part of an MLS, they may not get a commission. In some cases, agents may also try to delay deals because of the "discount commission" they are getting, which is unethical.
Can An Agent Refuse To Co-Broke With You?
It depends on the brokerage and the inclusion in the local MLS. Many smaller firms will allow agents to refuse co-broke deals if they don't want to share, and this can throw a wrench in the deal or make the broker "forget" to return calls until someone else buys it.
This creates a conflict of interest because the listing agent has a fiduciary responsibility toward his seller. Co-broking, therefore, is always a smart move.
Do Brokers Co-Broke with Non-MLS Members?
Co-broking becomes somewhat spotty without a pre-existing agreement and will depend on the specific deal, listing agent, and neighborhood. For example, local real estate agents in parts of eastern Queens who aren't members of REBNY are harsh to co-broking.
Some agents of tiny, local brokerages trying to sell single-family homes in Queens may refuse to co-broke. The same goes for Staten Island, which has its own MLS. Parts of southern Brooklyn are notorious as well for the lack of co-broking.
As a seller, you could quickly end up paying 6% in commission to an agent without intending to work with buyers' agents. This harms your sale prospects, as 90% of all home buyers get an agent representation.
Should Sellers Hire Co-Broking Agents?
Most of the time, it makes sense to get an agent who's amenable to co-broking—even if you are not sure that the person who will buy your property will have an agent.
The reason is simple: it ensures that your agent or broker will act on your behalf, even when less money is on the table.
A good agent is an agent that will get your home off the market fast for a reasonable price. Co-broking shows they are willing to work with others, even when it doesn't mean perks for their bottom line. And what that means for you is a real estate agent who's more transparent about what they do on your behalf.
---