What to Look for in a Moving Company in New York
Go Back To Previous Page
---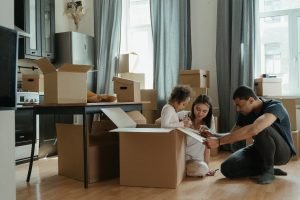 Moving is never an easy event. It takes a lot of time, planning, and preparation. It can be stressful and filled with anxiety and nervousness. Emotions can run high leading up to, during, and after the move. You have many responsibilities to ensure that the process goes smoothly and settles nicely in your new place. But going about all the essential tasks alone can be overwhelming. Fortunately, help is available. By choosing a professional local moving company in Brooklyn, you can rely on the expertise of people who have previously assisted numerous customers in having a successful move. In addition, moving companies in New York can take care of the heavy lifting and the long-distance transportation of your belongings and goods.
Of course, not all long-distance moving companies are the same. Some offer higher quality services than others. To find a place that best suits your needs, you need to look for certain qualities and characteristics. You can then feel good about going forward with the right help on your side.
Experience of a Moving Company in New York
There is no substitute for a professional local moving company with experience on its side. When you find a place with a proven track record of success, you can have confidence that it knows how to handle and move your items successfully. A good moving company should have years or even decades under its belt with residential moving. Regardless of the size of your load, where you're going, or what you need to move, the best movers can handle the task.
As you research moving companies, please find out how long they have been in business. You can also ask how much experience the individual team members have.
A Commitment to Safety and Care
When you pack up all your belongings and put them on a truck to head to your new home, you're trusting movers with your most important possessions. This isn't a task that anyone should take lightly. The thought of anything getting damaged or lost would be devastating. So it's no wonder why some people are wary of enlisting the help of other people to move their boxes to and from a moving truck.
The good news is that you can feel confident in a reputable local moving company. The best movers are aware that your possessions carry monetary and intrinsic value. Therefore, they will treat each item with care and consideration. They won't toss around boxes and items but will instead place them appropriately in the truck so that the heaviest items are on the bottom.
Moving company drivers are appropriately licensed and trained to operate the truck safely. The company will plan the safest, quickest route to your destination. You can rest at ease knowing a good moving company will do everything possible to get your possessions to your new home without any incidents or difficulties.
When it comes to moving, time can be of the essence. Once you arrive at your new home, you can't afford your belongings to be far behind. Waiting for appliances and personal items can create tremendous hardship. The same is valid for loading the truck at your old home. You need a company that will show up at the scheduled time and quickly loads everything on the truck. As you look for local moving companies, make sure the one you select can make good on its promise of on-time delivery.
Excellent Communication
As much as you want things to go perfectly for your move, you no doubt understand that unforeseen situations can come up. Bad weather, poor road conditions, accidents, and other problems can arise that hinder your move. Despite your best efforts and those of a moving company, your move may be delayed or encounter complications. What matters most in these times is that the movers communicate well with you.
The best moving companies will let you know about delays that arise. They will inform you of anything that might come up to require changing the moving schedule. There will always be an explanation of what has happened and how the movers are mitigating it. This way, you will not be left in the dark about what is happening.
A must for Moving Company in New York: Licensed and Insured
Last but not least, look for movers that have the proper licenses. Only choose a moving company that is insured as well. If you go with a buddy who has a large truck, and something happens along the way to your new home, you may be out of luck when it comes to replacing the items. Hiring an insured and licensed company protects both parties and gives you peace of mind.
Now that you're ready to move and find a long-distance moving company, make sure your top choices have these qualities. Trusting people you don't know with everything you own can be nerve-racking. But you can feel a lot better when the moving company meets these criteria.
---