Correction On The Horizon? New York's 2022 Property Market
Go Back To Previous Page
---
2021 was the year of skyrocketing real estate prices, and New York was no stranger to that, but relief may finally be in sight. Time magazine and StreetEasy have produced their predictions for the state of the NY real estate market in 2022, and at the top of their forecast is a course correction. Let's discuss the upcoming 2022 Property Market. There are signs that a bit of calm is starting into the red-hot market, with bidding wars on the way down – where will this leave buyers?
Part of the market evening out will be the settling of mortgage rates. Forbes approximates that rates will gradually increase uptick, but some information is hidden. While rates continue to rise, so do rents at a far greater level.
It makes more long-term sense to jump into a purchased property, even if current prices are relatively high. Furthermore, as mortgage industry expert Ryan Kelley highlights, the rise of digital lenders creates cost savings at several points in the home purchasing cycle.
Keeping inflated rents in your pocket instead, putting it into a mortgage or equity makes more financial sense.
Commercial Finance of the 2022 Property Market
There's been an upward trend in commercial property financing in the city and some smaller towns. The Real Deal highlights the Wells Fargo-led refinancing of One Vanderbilt as the leading symptom of $3 billion.
This is driving up prices elsewhere in the city; the influx of luxury accommodations associated with higher commercial office spending is at the root.
Competitive markets for 2022 Property Market
Despite the course correction, there'll still be extensive haggling and bartering to be done within the market. Syracuse magazine notes that many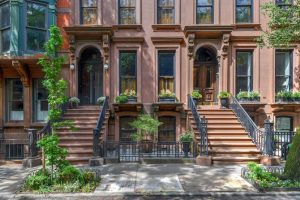 asking prices have been anything but in NY, especially central NY. Given the heat of the market, most sellers are getting far more than the ticket price indicates, and that will outlast any course correction.
Housing stock remains low, so preparing for that is essential by having extra cash in your pocket.
2022 real estate market prices may flatten, but the market is still bumpy. Buyers should know that before diving into the NY property market again. However, housebuilding will rise in the future. As a result, there may well be a less volatile market to look forward to. We like to keep an eye on the upcoming Property Market.
---