FISP, formerly known as Local Law 11, requires buildings taller than six stories to have exterior walls and appurtenances inspected every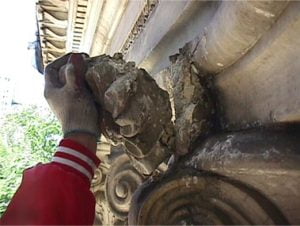 five years. Upon
completion of the inspection
, a building must file a technical report with
the department of buildings
classifying façade elements as either.
Safe,
or Safe with a repair and maintenance program
or Unsafe.
Owners of Unsafe façade elements must address the issue immediately and repair it within 30 days. FISP ensures pedestrian safety by preventing bricks, concrete and other façade elements from falling on pedestrians. Fourteen thousand buildings in NYC are subject to the FISP inspection protocol. One can find the FISP inspection, reporting, and action requirements in RCNY (Rules of the City of New York) 103-04. Periodic Inspection of Exterior Walls and Appurtenances Buildings.