Essential Eco-friendly Kitchen Appliances That Are Perfect For A Small New York Apartment
Go Back To Previous Page
---
A recent survey done by Southern Cross University found that 87% of people said that they wanted to learn how to live in a more eco-friendly way. 93% of people were concerned about the planet and were willing to make lifestyle changes to help. When you fit out your New York apartment, it's worth investing in some great new kitchen appliances not only to make your life easier but also to be more sustainable, using less energy and resources. The following would be a great addition to a modern New York apartment for a busy professional.
#1 Kitchen Appliances: Eco-friendly washing machines
There have been some significant advances in washing machines to help make the daily laundry cycle more eco-friendly. You should first consider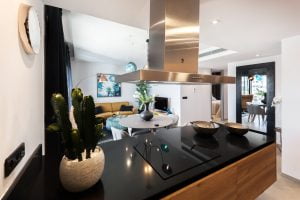 comparing front load and top load machines in an apartment, and Front-load machines generally use less water but can be more expensive.
Samsung has recently developed a hybrid option between the two, called the Flexwash. It combines a front-load machine that takes up to 21kg in laundry and a 3.5kg top load for your larger items like blankets and duvets. IFB and Samsung have both harnessed bubble washing in their new machines.
The machine's drum is filled with millions of bubbles that penetrate the fabric to get the material clean. This uses substantially less water than conventional washing and is better for the planet.
Smart ovens
The oven in your kitchen is one of the most used appliances. Advances in recent technology mean that cooking a meal uses less energy and can be done more efficiently. Smart ovens are changing how we cook food and give you the option of being able to cook remotely.
You can set up your meal before work then operate your oven remotely using your phone. You can then have your dinner ready for when you walk into the apartment. New smart ovens by Bosch and Hoover incorporate pyrolytic technology, making cleaning your oven a breeze.
Smart toasters
97% of Americans agree that breakfast is the most important meal of the day. And every good breakfast should include a slice of hot, buttered toast. Toasters have a reputation of being incredibly inconsistent machines, using a lot of electricity, and not always cooking the toast evenly.
However, new advances in technology include specialized settings for different types of bread and see-through walls. The new smart toasters brown your bread in less than half the time as conventional machines, and you can personalize the settings so that you get your toast just how you like it.
Even better, you can control your toaster using your phone, giving you a few extra precious minutes in bed in the morning.
When you choose gadgets for your New York apartment, there are some excellent new eco-friendly options on the market. They will not only ultimately save you time and money but also help to save the planet.
---