Briarcliff Manor
Go Back To Previous Page
---
Get to know Briarcliff Manor, NY. Briarcliff Manor is located in the state of New York, in Westchester County. It is about six square miles and 30 miles up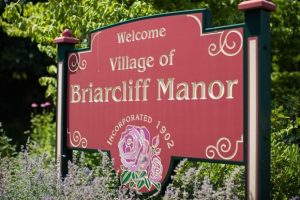 the Hudson River. Therefore, Briarcliff Manor is located between two towns, Ossining and Mount Pleasant. It is also near Tarrytown, Sleepy Hollow, and Scarborough. The leafy suburban feel, the many parks, the high-quality local restaurants, the highly-rated public schools, the low crime rate, and the many youth-sponsored activities make Briarcliff Manor an attractive place to live. We will also describe the club at Briarcliff Manor.
Overview of Briarcliff Manor
Briarcliff Manor is an excellent and affluent Westchester suburb that is family-focused, ideal for raising a family, and a top-notch school system. It is a place where a family can quickly befriend another family by attending one of the many outdoor excursions like going to the impressive Law Memorial Park. Because many residents commute to New York City for work, the salary range is higher than comparable towns.

The youth are widely represented here, as the town offers them many activities. At the highly-rated schools, the children and teens come from wealthy families who value higher education. For the most part, the parents graduated from college and received a master's degree or higher. Briarcliff Manor is one of the most educated towns in the U.S.

A high rate of residents who own their single-family homes reveals that the community is stable and explains why there is a low inventory of homes for sale in a given year and not that much higher. Because many residents are married and are raising children, social life in Briarcliff Manor tends to be family-oriented.
Briarcliff Manor Demographics
The population consists of 8,094 people, making it a somewhat small town. As such, Briarcliff Manor comes in as the 223rd largest town in New York.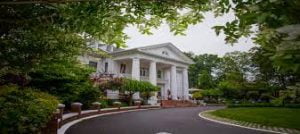 96.25% of the workforce have white-collar jobs. 20.1% are employed professionals in the business, scientific and financial sectors. Also, the highest average age of Briarcliff Manor residents starts at 35 and goes up to 54. That's 22% of the town folk and is followed by 20.9% for 55 and up to 64. Thus, the residents are mainly in the older range, suggesting that many who reside here have lived in their homes for a long time.

And Briarcliff Manor is one of the most educated towns in the U.S. 73.3% of residents are college-educated. For example, the national average is 21.84%. And a large percentage—41%–received a master's degree or higher. It's no wonder then that the median household income is $100,000. In comparison, the median income of US residents is $ 62,843. In 2018, the per capita income was $91,201.

81.9% of residents in Briarcliff Manor are Caucasian. Only 8.1% are Hispanic or Latino. African American residents are lowly represented, at only 1.9%. Briarcliff Manor thus lacks diversity, and manry other races not listed here don't live here.
Home Ownership and Housing
Briarcliff Manor is a costly town to live in. Home prices are high for this New York suburb and are among the most expensive places to live in the US.
Historically, the Vanderbilts, Astors, and Rockefellers lived in estates in Briarcliff Manor. This affluent commuter town offers many types of homes. Therefore, you'll find colonials, newly built mansions, and squat ranches. If you're lucky, you'll have a home with views of the Hudson River.

The median home value is close to a million, at $959,085 for single-family homes.
• 27.7% of home prices cost between $823,000 and $1,097.000.
• 21.8% of home prices are over a million.
• 72.2% of the type of property in Briarcliff Manor is a single-family home.

This means that the homes in Briarcliff Manor are prohibitively expensive. But if you're not wealthy, you can still live here if you rent a house or an apartment. The average market rent is $4,731 per month. Compare that to a 1-bedroom rental in New York City, and you'll see that the rent in Briarcliff Manor is surprisingly higher than a New York City rental. As of 2021, a rental apartment in the city costs around $2.500. Only 20.7% of the population in Briarcliff Manor rent.
Crime Rate in Briarcliff Manor
Not surprisingly, Briarcliff Manor is a safe town, and the crime rate index is 89, where 100 is the safest. Thus, Briarcliff Manor is safer than 89% of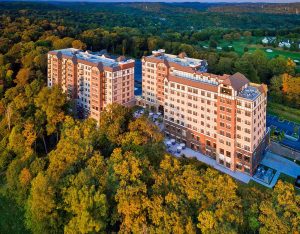 U.S. towns, making it a great place to raise children. For example, the number of violent crimes is 0, and the number of property crimes is 32. Murder, rape, and robbery come in at zero. Therefore, the chance of you becoming a victim of a violent crime is 1 in 10,000. In New York state, it is higher, coming in at 1 in 279.
The Briarcliff Manor School System
Briarcliff Manor public schools spend $31,164 per student. In comparison, the average public school expenditure in the U.S. is $12,383. The Briarcliff Manor Union Free School District serves about 1,500 students in three schools:
Todd Elementary for kindergarten through Grade 5;
Briarcliff Manor Middle School for Grades 6, 7, and 8;
and Briarcliff High School.
The average SAT scores in 2014 were 598 in reading, 606 in math, and 608 in writing; statewide averages are 488, 502, and 478.

Also, the larger Ossining Union Free School District, with nearly 5,100 students, has about 200 or so Briarcliff Manor children in its schools: the Park Early Childhood Center, for prekindergarten and kindergarten; three elementary schools, Brookside, for Grades 1 and 2; Claremont, Grades 3 and 4; and Roosevelt, Grade 5; the Anne M. Dorner Middle School, Grades 6, 7 and 8; and Ossining High School, where last year's average SAT scores were 495, 514 and 501.

Many commuters' children go to school on two campuses on the opposite side of town, near a modest but attractive neighborhood called the Tree Streets, because of their names.
Transportation
The downside of living in Briarcliff Manor is that it takes a long time to commute to work. For instance, the average commute time for residences is 39.6 minutes. The national average is 26.4 minutes. Situated right on the water is the Scarborough Station of the Metro-North Railroad Hudson Line. This is the station utilized by residents who work in New York City. The Metro-North train runs between Scarborough Station and Grand Central Terminal. Briarcliff Manor does not have its own train stop. But it would not be enjoyable if you tried to drive to your job every day. Not only would you run into traffic, but you would also have the added expense of parking your car in a garage.
What it's Like to Live in Briarcliff Manor, NY
You know you're in Briarcliff Manor, NY, when you get off the parkway or Route 91 and see beautiful green hills and stunning views of the Hudson River,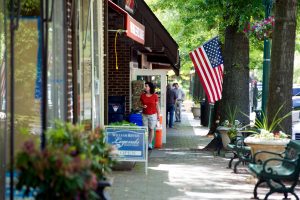 the latter of which is what this village is known for. Also, to reach the suburb part of town, you get to it by driving on a rising wooden hill that gives way to impressively large homes and estates.
As a result, if you get on North State Road, the village's "main street," you'll encounter the businesses. While there's a Starbucks and Dunkin' Donuts near each other, many businesses or storefronts are local and locally owned.
In general, residents here are physically active and live a healthy lifestyle. If they're not jogging or canoeing, they're hiking or casting a line. That's in part due to the fabulous parks and parklands that Briarcliff Manor has to offer to its residents. There are plenty, but here are the best of them.
Chilmark Park
This park offers tennis courts, a half-court basketball court, a soccer field, a baseball/softball field, and a playground that will keep young children busy on 8.3 acres.
Jackson Road Park
Jackson Road Park has a standard 10' high rim basketball court and another one for younger players. Little children can utilize the newly built playground that has some swing sets.
Law Memorial Park
Located in the heart of the town on Pleasantville Road, this seven-acre park was given to the city by its first family of Briarcliff Manor, the Laws. The main attraction is the 120' x 75' pool and the 30' diameter circular wading pool. There are six tennis courts (three clay, one all-weather, and two platforms) that are all lighted for those who use the courts in the evening. Also, near the tennis courts is an extensive playground for kids. If you go to the Park's eastern edge, you'll wind up at the town's library.
Pocantico Park Loop
While Law Memorial is the most famous court, Pocantico is the largest, 70.9-acre site, a place where you can hike and catch glimpses of all the animals, most notably the whitetail deer.
Scarborough Park
This six-acre 97-year-old riverside park, located right next to the Scarborough train station, is excellent for those who want to take in the river views and the fabulous sunsets. Here is where you can have a picnic as well as cast a line and fish. Don't forget your fishing pole!
Hardscrabble Wilderness Area Trail
This park has a 3.5- mile wandering trail to hike on and which you can probably complete in two hours. With its "easy" trail, you'll find young ones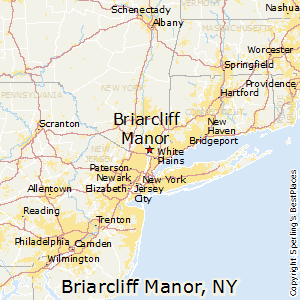 with their parents here, as well as many dogs and dog owners. That's because this is a popular area for dog walkers. Here you can find rolling hills, brooks, a glimmering pond, a marsh, forest, rock formations, and slopes. N.B.: leash regulations do apply.

With these parks, the Briarcliff recreation department offers year-round activities for people of all ages.

There's also a summer day camp where roughly 400 children attend yearly. Youth have a lot to do besides summer camp. For example, at one of the many parklands, you'll find an ample amount of soccer fields and baseball diamonds. There are baseball, softball, soccer, and lacrosse teams tailored for the young, and these activities are one way for the children to form close bonds in this know-your-neighbor family-centric community.

Club Fit Gym, the club at Briarcliff manor
584 North State Road, Briarcliff Manor, NY 10510 (914) 762-3444
If residents aren't exploring the outdoors, they're probably inside at the wildly popular and enormous Club Fit gym.

Club Fit has a well-sized pool, a weight room, a fitness and aerobic center, tennis, and an indoor track that runs around the periphery of the gym. Therefore, you can take many classes for aerobics or swimming, to name a few, and the instructors are always around to give you intel on how to live well and be healthy. As such, Club Fit, which is nearly packed on a given day, is a community health center and not just a place to work out or exercise.
Where to Shop in Briarcliff Manor, NY
Briarcliff Manor has three chain supermarkets, two in town and one in a nearby village.
Acme, conveniently located in the heart of Briarcliff Manor, on Pleasantville Road, can be found in the Chilmark Shopping Center.
Stop & Shop is in Ossining, a nearby town.
Green's Natural Foods, a small chain grocer with the look and feel of a locally-owned supermarket, specializes in organic produce, all-natural meat, and a good selection of healthy foods.
Squire's Restaurant: Squire's Restaurant is a family restaurant with a bar and is known for its burgers and steaks. Since 1967 and family-owned, many residents have come here because it's the best restaurant in town. In 2017, the pub was named the best burger in Westchester.
Moonbean Café: This locally-owned coffee house has an easy-going vibe where you can get the best coffee in town. Yes, there's a Starbucks and Dunkin' Donuts in town, but residents know better and feel good supporting local businesses. And besides, it received 5 ½ stars based on many reviews on Yelp. The café sells coffee, some sandwiches, and sweet treats. The indoor space is small but cozy and has a dark wood interior that makes you feel relaxed. In good weather, you can sit outside on the charming patio.
Event Space in Briarcliff Manor, NY
The Briarcliff Manor is an event space located in a gorgeous white mansion that has been in business for over 50 years. This family-owned manor is singlehandedly the best venue in Westchester, from its renowned catering cuisine for your event to its capability of hosting a party for as small as 20 guests and as large as 180. The manor is perfect for bar and bat mitzvahs, weddings, rehearsal dinners, showers, communions, parties, birthday parties, and anything else you can imagine if you want your event to be held in a historic grand mansion.
Contact NestApple to get the list of the homes for sale in Briarcliff Manor.
---