The 10 Best Westchester Towns For Foodies
Go Back To Previous Page
---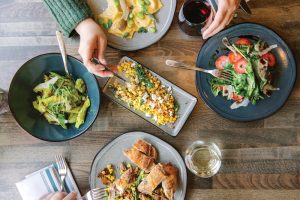 Towns in Westchester, New York State, have a strong reputation for being the "suburban part of New York City." It's true. You can find idyllic parks perfect for walking through nature, tight-knit communities, and homes atop rolling hills. Though it's still a more suburban county than you would find in New York City, you still have many options for experiencing the more fun parts of city life.
In terms of nightlife, the biggest thing that people tend to enjoy in Westchester towns is the wildly popular food scene. This area is home to several famous restaurants, not to mention an active locavore scene. If you want to be among your fellow foodies, you have your fair share of great picks.
Not sure where to begin? Check out our selection of the best towns in Westchester, NY, for foodies.
This blog post will go through various
Westchester, NY
towns in the Hudson Valley. Take your car or swing by the train station to see what the Hudson River Valley offers. We will reveal the ten best Westchester towns for foodies
10. White Plains
Whether you love it or hate it, there's something to be said about the food available in White Plains. This town is known for having a New York City vibe without the congestion, and Thankfully, that extends to its fantastic food selection.
Authentic Italian fare from places like La Bocca is a major draw here. Of course, upscale places like the BLT Steak bar at the Ritz-Carlton also make for a great night out.
Therefore, the sheer selection of places you can eat makes White Plains an excellent place for foodies. To make things even better, it's only a quick drive away from local farmers' markets. So, you get the best of the Big Apple mixed in with the beautiful farm goodness of upstate New York.
9. New Rochelle
New Rochelle has a lot of draws to many people: high schools, for instance. You might remember that New Rochelle is a major cultural hotspot for people in the county from our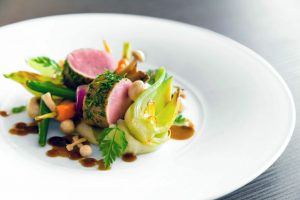 last roundup, but did you know that this place is also a considerable food hotspot? Unlike White Plains, which tends to have a very Manhattan-esque vibe.
New Rochelle is a lot more quaint, and the city town is booming.
This means that you might be able to enjoy breathtaking patio dining at places like Dubrovnik, a Croatian restaurant with great views. Or, if you want something more casual and familiar, you may go to Joey's Cannoli or one of the many mouthwateringly good Mexican restaurants in town.
8. Port Chester
Are you looking for some Latin flavor in your life? Or perhaps, you want the excellent modern fusion takes you would typically find in Brooklyn or Queens? Look no further than Port Chester. This culinary town gained widespread recognition for having diverse food styles throughout its city corners.
This is a great place to go if you want to taste some of the best sangria you've ever had in your life. This town's restaurant rosters represent Colombian, Peruvian, Brazilian, and other South American countries. Es el Mejor Sabor! Translation: You will love the food here.
7. Mount Kisco
Mount Kisco is a little town that often gets overlooked by places like White Plains and Yonkers. It is one of the best school districts in the state, with an excellent public school. This town is a significant foodie hotspot because 38 percent of locals are foreign-born.
With their diverse backgrounds came a treasure trove of recipes.
This ended up bleeding into the area's food scene.
Where do we even begin?
Let's rattle some of the more famous names associated with Mount Kisco's incredible restaurant scene: Village Social (Yum! Gastropub!), Exit 4 Food Hall, Pour, Kisco River Eatery, Mt. Kisco Steakhouse…
Yeah, this place is fantastic regarding both luxury food, ice cream and drinks.
6. Bedford
There are two types of foodies: foodies in the streets and foodies living on them 24/7. (I ought to know, I exist for food.) If you are a member of the latter category, you may find it hard to live in a place with excellent restaurants but bad grocery stores, and that's why Bedford is a great foodie town.
Along with notable restaurant names like the picture-perfect Bedford Post Inn, people who live here have a wide array of gourmet grocery stores to choose from. So, even if you aren't sipping Chardonnay on one of the area's many patio dining spots, you can still rely on having food worthy of a country club meal here.
5. Dobbs Ferry
Dobbs Ferry has a lot in common with Bedford regarding its food scene, and this beautiful town is known for attracting upscale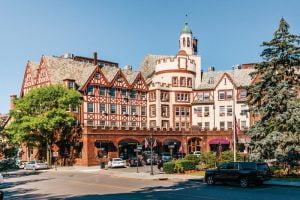 people. Unsurprisingly, this almost certainly means you can find food with a very classy feel. Some of the more prominent names in the area include the breathtakingly modern Half Moon and the exceptionally patio-friendly Piccola Trattoria.
If you want to give a more "New Yorker" take on things to try, check out the Parlor. This place gained serious fame for its Neopolitan pizzas and classic Italian fare. Oh, and if you're a locavore, they have many farmers' markets around the area.
4. Peekskill
Firstly, did you ever want to go to a place filled with whimsy but also seems to have an edgy grittiness to it? You'll love the small riverside town of Peekskill. This is an arts-heavy town famous for its painting scene, but it also deserves a lot of love for its food.
The area has many cute restaurants you can choose from, not to mention tons of appealing craft beer centers. Excellent seafood, delicious craft beer bars, and some of the freshest steaks you'll ever try are here.
Since Peekskill is near several significant farming communities, the farmer markets here are great too. If you're in the area, we strongly suggest the Birdsall House, whose gastropub fare is ahhhhh-mazing.
3. Brewster
Though Brewster is one of the more underrated towns regarding food, it's a small place making a big name for itself. Many Brewster's restaurants are casual yet upscale—the kind of places where you might find truffle fries or a delicious coal-fired pizza. They get hoity-toity from time to time.
Then, you can enjoy sinking your teeth into a slice at Portofinos or choose a savory steak at Mezza Luna. No matter what you choose, you will find yourself in a beautiful setting with great eats.
2. Yonkers
Located right near the outskirts of New York City, is it that shocking to hear that Yonkers is one of the better places for foodies? It has all the amenities of Manhattan with a slightly lower price tag. You can't get better for foodies who want to enjoy life to the fullest on a budget. The menu diversity is fantastic, from "hole-in-the-wall" Chinese restaurants to the hyper-upscale experiences people pay big money to enjoy.
Then some prominent names in the restaurant scene include X20 Xaviers on the Hudson, Khangri Japanese, and Zuppa. You don't have to dip your toes into a trendy place to have a fantastic time here.
It's all good in this hood.
1. Best Westchester County Town: Tarrytown
New Yorkers love Tarrytown for its proximity to New York City.
Tarrytown isn't just a foodie town; it's the foodie town in Westchester county. If you want to check out the most famous restaurants in the county, it's Tarrytown that you should be going to.
Multiple steakhouses (Ruths Chris, Blue Hill), country club settings, world restaurant genres, and tons of dining by the Hudson make this a great town to be in.
For street tacos lovers, there is "The Taco Project." For Italian food, there is Bistro12. What about vegan food? Absolutely.
There's Grassroots or Sweet Grass for it. Every magazine calls Tarrytown a foodie's heaven, and we're inclined to agree.
---