How To Buy A Home With Low Down Payment
Go Back To Previous Page
---
Buying a home may seem impossible for many because some can't afford the down payment. That's why most people start saving money first to ensure they can afford a down on a property. While this may be a good idea, you may find other better options. You can buy a home with a low down payment, and some even allow a zero down. Check out the following to choose the best one to help you acquire a house with a low down:
Veterans Affairs (V.A.) Loans
The Department of V.A. partially guarantees V.A. loans that mortgage finance companies, credit unions, banks, and other private lenders like Security America Mortgage provide. This type of loan has lower interest rates than traditional home loans. These loans also allow you to make a low or no
down payment.
Moreover, you don't need private mortgage insurance (PMI) or a high credit score when availing yourself of such loans. It also gives you a higher debt-to-income (DTI) ratio since it's more flexible than others.
However, the property's sale price must be lower than its appraised value to ensure zero down payment. The VA will pay the down payment if the form of reimbursement to the lender when the property has is foreclosed, which is in agreement via the 'V.A. home loan guaranty.'
In addition, you must be eligible to avail yourself of a V.A. loan. It would help if you were a reserve, member of the National Guard, active-duty service member, veteran, or the surviving spouse of a veteran. Then, secure a Certificate of Eligibility (COE) and other requirements to avail of this loan.
U.S. Department of Agriculture (USDA) Loans
Another loan that doesn't have down payment requirements is the USDA loan. However, this requires a minimum of 620 credit scores, similar to the conventional loan program requirements. You can, however, use this loan only if you're buying in a suitable location that's not a densely-populated city. Think of the suburbs and small towns.
Thus, this loan is far from the common belief that it's only for purchasing farmland. The USDA eligibility map is an excellent way to check if the location of the property you want to buy is eligible.
You also need to pay for a USDA guarantee fee which works as mortgage insurance, although you're not required to have the latter. You'll pay the recurring annual premium monthly aside from the up-front premium fee.
Federal Housing Administration (FHA) loans
Although the FHA loan requires a down, it's as low as 3.5%. You can use this loan to buy condo homes or single-family properties within the FHA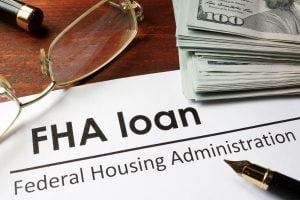 home limits. The property must also pass the standards that the U.S. Department of Housing and Urban Development has set.
While the down payment is low, you must meet other requirements of the FHA-approved lenders. One is to have at least a 580 credit score. If you have a non-traditional credit history, the lender must check that you must have an on-time rent payment for the past year. You must not have had any collection actions during this period and not more than one 30-day late payment.
Like USDA loans, you can use a financial gift from a third party toward a part of your down or all of it. However, you must prove that the money isn't a third-party loan but a gift.
Conventional Mortgage (5% down)
You may need extra help qualifying for a loan if you're a first-time homebuyer. This makes the conventional 97 loans more suitable for you, although they're stricter than the Conventional regular loans. However, if you can't meet the Conventional 97 loan's requirements, you may have no choice but to go for the conventional mortgage.
It's not as strict as the Conventional 97 loan, but it's incredibly flexible, making it the most popular type of loan. You can make a down as big as 20% or more and as low as 5% as long as you have at least 620 credit scores.
Another defining feature of this loan is its loan limits are higher than FHA loans. This means you may need to save up some more money to come up with a 5% down payment if you plan to buy a property that exceeds the FHA's limit.
In addition, you also need to have private mortgage insurance (PMI) if you have less than a 20% down payment in conventional mortgages. Once you reach a 20% equity in the property, the PMI requirement can be canceled, which means you won't be stuck with such an additional fee for a long time.
Conclusion
Buying a home requires sufficient funds for the down payment and other upfront fees. You can avail yourself of the loans mentioned above if you're tight on budget. What's important is to check your eligibility before applying for such a loan to avoid wasting time and money.
---