Cheapest places to live in New York in 2023
Go Back To Previous Page
---
Despite its reputation as an expensive city in the United States, New York offers a variety of surprisingly affordable neighborhoods. If you're looking for a place to call home on a budget, check out these five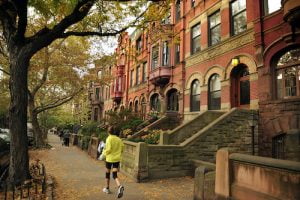 cheapest places to live in the New York metropolitan area.
From Hell's Kitchen to Chinatown, you can find great deals on housing and amenities in some of the most iconic parts of the city.
So don't despair if your bank account feels a little light if moving to new york. There are still plenty of options for cheap living in the city that never sleeps.
Whether you're looking to move to the city for the first time or need to switch things up, affordable rent prices are always something to look out for. We've rounded up a list of the most affordable neighborhoods for one-bedroom apartments in NYC as of February 2023 to get you started. Without further ado, here are the options in the
5 boroughs of NYC
.
New York City is expensive, but a few neighborhoods are more affordable than others.
New York City is widely known for its high cost of living, but that doesn't mean you have to break the bank to experience this fantastic city. Plenty of relatively affordable neighborhoods sprinkled throughout the boroughs have much to offer their residents.
For example, the Lower East Side in Manhattan and Astoria in Queens provide more reasonable housing options without compromising access to transit and delicious eats. These vibrant NYC neighborhoods feature a diverse collection of apartment options, fantastic nightlife, and much more. They all come at a fraction of the cost of downtown Manhattan or pricey Brooklyn hotspots.
If you're looking for an apartment, try searching in Brooklyn or the Bronx.
If you're searching for a new apartment, Brooklyn and the Bronx offer some of the best opportunities.
From modern high-rises with luxurious amenities to beautifully restored brownstones, these boroughs provide a range of housing options. You can find hidden gems tucked away in exciting neighborhoods and stylish apartments close to all the best attractions.
Plus, with abundant public transportation options from both boroughs, getting around New York is easy and convenient. So don't hesitate: to take the plunge and start your exciting apartment hunt today in Brooklyn or the Bronx.
If you want to buy a house, look into Staten Island or Queens
If you dream of homeownership and are considering purchasing a home in the New York City metropolitan area, try looking into Staten Island or Queens.
There, you'll find many diverse neighborhoods that fit many lifestyles and budgets. On Staten Island, you can have waterfront view living that also offers easy access to Manhattan via ferry or Expressway. Consider Queens if you're looking for something more affordable yet still offering convenient transportation options and various attractions.
Various housing opportunities are available in different cultural hubs, such as Flushing and Jackson Heights. The borough is perfect for those interested in experiencing big city life while still feeling tucked away from the hustle and bustle of Manhattan. Whether you choose, purchasing a home on Staten Island or the Queen's side offers rewards worth considering!
Bay Ridge, Brooklyn
The neighborhood of Bay Ridge in Brooklyn is a historic enclave that offers its residents a quiet and comfortable place to call home. And best of all, it is one of the cheapest places to live in NYC. Originally settled by Dutch farmers, the area has seen much redevelopment recently, with new housing and businesses popping up along its tree-lined streets. There's something for everyone in Bay Ridge, from trendy cafes and restaurants to mom-and-pop shops and art galleries. The people here are warm and welcoming, making it easy to feel at home in this vibrant community with great schools and convenient commutes – great for families!
Sunnyside, Queens
Sunnyside Queens is a lively and vibrant neighborhood located in the borough of Queens, New York. It is known for its close-knit community and its diverse population. The area is home to many cultures. The streets are alive with activity throughout the day as people make it to their destinations. Sunnyside has become known for its local restaurants and cafes catering to all tastes. After dark, Sunnyside transforms into a bustling social scene where one can find bars and pubs that offer live music entertainment or karaoke nights. Sunnyside also offers a variety of outdoor activities, such as biking trails and parks that allow residents to get out and enjoy nature from within the city limits.
Bed-Stuy, Brooklyn
Bed-Stuy, also sometimes referred to as Bedford–Stuyvesant is an iconic, vibrant neighborhood in NYC renowned for its cultural diversity and rich history. It's a melting pot of people from all walks of life, from young families to older people, from those born and raised in the area to newcomers. With its grand brownstones, tree-lined blocks, and diverse population, Bed-Stuy is a neighborhood like no other. Bed Stuy has many great places to explore, from trendy cafes and chic boutiques to local hot spots. Whether looking for the best spot to grab a bite or enjoy a stroll around the block, you will surely find something special when exploring Bed-Stuy.
Kew Gardens
Kew Gardens is located in Central Queens, about a 30-minute subway ride from Midtown Manhattan. The neighborhood has been around since 1868 and was one of seven planned garden communities built from the 19th century to 1950. There are a lot of single-family, million-dollar homes in the area, but there are also plenty of spacious, cheap rental opportunities. Prime architectural styles are Dutch Colonial Revival and Beaux-Arts styles, and buildings tend to have spacious apartments that are between four to ten stories and are a mix of standard rentals and co-ops. A change to the neighborhood makeup has started to occur as homeowners are selling their properties to developers who, in turn, are building high-rise and flashy new developments. While the building makeup has started to change, the Hispanic and Asian populations have grown since 2000, providing a haven for members searching for those communities;
Washington Heights
Washington Heights is an enchanting neighborhood in New York City, located near the Harlem River and boasting stunning views of the Hudson River. It's an incredibly vibrant area that offers a unique blend of culture, cuisine, and entertainment for locals and visitors alike. Washington Heights also has several parks and green spaces for relaxation and recreation. Its proximity to Manhattan means that locals can easily access all of the city's shopping, dining, cultural attractions, and nightlife. Whether looking for a quick bite or a night out on the town, Washington Heights has something for everyone.
No matter where you live in New York, be prepared to pay high taxes.
New York City is often referred to as the country's financial center, and it's not hard to understand why. No matter where you live in New York, taxes will be high; state income tax can range from 4 percent to 8.82 percent, depending on your annual income.
On top of that, there're local taxes, sales taxes, gas taxes, real estate taxes, and more. Some of these may be waived for specific individuals or groups, but it's safe to say that life in New York City comes with a hefty price tag–especially regarding taxes.
It's essential for those considering relocating to the city or simply visiting for an extended period to assess the cost difference upfront and plan for that extra expense in their budget.
There are many free or low-cost things to do in New York City, so take advantage of them!
If you're ever in the Big Apple, don't let the chance to experience all that the great city of New York has to offer to pass you by!
There is always something to do and explore in this amazing city. And many of those activities come at no or low cost. Free walking tours, outdoor art installations, and self-guided tours are just a few possibilities. You can also take advantage of free or discounted museum admissions.
You can spend time in one of its many parks and green spaces. With NYC offering such a wealth of free or low-cost activities, there's no reason not to get out there.
Cheapest places to live in New York
New York City is expensive, but there are a few ways to save money. If you're looking for an apartment, try searching in Brooklyn or the Bronx. Look into Staten Island or Queens if you want to buy a house. No matter where you live in New York, be prepared to pay high taxes.
There are many free or low-cost things to do in New York City, so take advantage of them!
---