Rework Your Apartment to Make It Unique and Special
Go Back To Previous Page
---
Think about your typical well-decorated Apartment. You likely imagine some family photos on hanging shelves, a few houseplants — maybe even a lovely piece of art on the wall. It creates the perfect balance of homey and stylish. But at the same time, it may feel dull and corny. A question arises: how can you make your Apartment unique yet comfortable? First and foremost, you should always stick to regular home maintenance tasks, as even the most expensive renovation won't make your home feel unique and cozy if you do not tend to it. For instance, you can start by scheduling regular HVAC maintenance to be performed twice a year by experienced technicians.
Now, the rest boils down to embracing your style. Whether you're into vintage finds, eclectic pieces, or modern furnishings, use your décor to express who you are. And don't be afraid to take risks! Creativity can go a long way in making your rental feel like your own.
However, you may want to follow a few golden rules of apartment décor to ensure your room doesn't become too cluttered, busy, or over-the-top. Below, we share some tips for making your Apartment feel unique and special. Read on!
Add a Splash of Color will make your Apartment Unique
One of the simplest ways to make your Apartment unique is by choosing a few bold pieces. It can be as simple as adding a new throw pillow, an accent wall, or a rug. Take this as an opportunity to try bright colors to add interest to your space. For instance, you could paint a room in your Apartment a color you've always wanted to try.
When working with colors, avoid the tendency to pick a different shade of white or grey for your Apartment. Why? These shades tend to blend and will be hard to differentiate. Instead, choose a few colors that stand out — bold, bright, or neutral — and keep them consistent throughout your space.
Enlarge Your Space
What if you could make them larger instead of cluttering your rooms with numerous decorations? Think about trendy flat roof windows, modern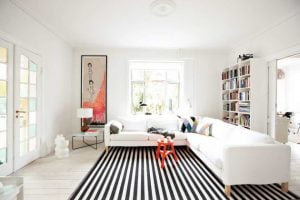 hanging lamps, or minimalist flooring. For instance, you can check how to get the best natural sunlight with flat roof windows if it sounds like something you would love to implement.
While it doesn't mean you have to go out and replace your existing apartment furniture with brand-new pieces, it offers a solution for those looking to refresh their place. You can easily make your rooms appear more prominent with a few smart choices, making your Apartment more open and spacious.
Start by decluttering your surfaces and floors. Then, consider investing in a few pieces of furniture that can serve multiple purposes. For instance, an ottoman can double as a coffee table and extra seating.
Get Creative With Storage
Living in a small apartment makes you likely to look for more storage space. This is where getting creative comes in handy! There are
plenty of ways to add storage to your room without cluttering.
For example, you could install floating shelves to display some of your favorite decorative items. Or, try using a ladder as a makeshift bookshelf.
If you're tight on space, consider investing in a Murphy bed. This way, you can turn your bedroom into a home office during the day and transform it into a bedroom at night.
Incorporate Nature to make an Apartment Unique.
One of the best ways to make your Apartment feel unique is by bringing the outdoors inside. Adding a few houseplants or hanging some greenery from the ceiling can make a huge difference!
Not only will doing so help purify the air in your home, but it'll also add a touch of nature to your décor.
If you don't have a green thumb, don't worry — plenty of low-maintenance plants are perfect for beginners. And if you want to go all out, you could install a vertical garden in your Apartment.
Let's not forget fresh flower arrangements that make beautiful centerpieces in any room and make indoor spaces look alive. In modern times, it takes just a few clicks to place an order and get
flowers at your door the next day
,
if not sooner. 
Create a Gallery Wall
Creating a gallery wall is one of the easiest ways to add personality to your Apartment. It allows you to display your favorite photos, artwork,
and memorabilia. Plus, it's a fantastic way to fill up an empty wall.
When creating a gallery wall, choose a theme or color scheme. A color scheme will help narrow your choices and create a cohesive look.
Once you select your items, play around with different layouts until you find one you love. Then, use Command strips or push pins to hang everything up.
Add Some Textures
If you want to make your Apartment feel cozier, consider adding some textures to your décor. They will add visual interest and make your space feel more inviting. It can be anything from a fluffy throw blanket to a woven rug.
When incorporating textures into your décor, mix and match different materials; for instance, you could pair a chunky knit blanket with a velvet pillow. Or, you could try layering a jute rug with a sheepskin throw. The possibilities are endless!
Embrace Your Style
Embracing your style is the best way to make your Apartment feel unique. What does it mean? First, you should start filling your space with items you love that reflect your identity.
It's okay if your décor doesn't fit into one specific category or style, which makes it unique!
So, fill your Apartment with items that make you happy. Whether that's vintage finds or art from your favorite local artist, use your décor to express who you are.
Final Thoughts to Make an Apartment Unique
Making your Apartment feel unique and special doesn't have to be complicated. You can quickly turn your place into a stylish and inviting space by following simple tips.
If you want your humble abode to stand out, consider adding a splash of color, embracing your style, and incorporating nature into your décor. Besides that, you can look for ways to enlarge your space or add more textures.
With creativity, you can transform your Apartment into a space that reflects your personality and makes you feel at home. So, go ahead and get started on making your rental your own!
---