How Direct Mail Marketing Can Help Real Estate Agents
Go Back To Previous Page
---
Real estate is perhaps one of the booming sectors in today's world. More and more people are looking forward to buying and selling properties like buildings and land. You can also join the trend by becoming a real estate agent. As a real estate agent, your role is to arrange transactions between buyers and sellers. In other words, you represent the parties involved in real estate negotiations in exchange for commissions. Running a real estate firm isn't always easy. This is because of the stiff competition in the market. But the good news is that any real estate agent can leverage the power of direct mail marketing to compete effectively with other service providers.
This article explains what direct mail marketing is and how real estate agents can benefit from this strategy. Read on to get some insights.
Direct Mail Marketing For Real Estate Agents Defined
Direct mail marketing is a promotional strategy real estate agents use to engage with prospects by sending physical letters, brochures, flyers, catalogs,
mailers, postcards, etc., through postal offices or other delivery services. It's one of the most effective offline real estate agent marketing strategies.
It can positively impact your clients and your business bottom line when done right.
Benefits Of Direct Mail Marketing For Real Estate Agents
There are several benefits to utilizing direct mail marketing as a real estate agent. These include:
Offers Targeted Advertising
If you want to connect with the right clients easily, you must ensure you send targeted adverts. This involves sending promotional messages based on specific people's needs.
Most other real estate marketing strategies might not allow you to send the most targeted campaigns. They only allow you to reach a vast audience quickly, thus increasing your chances of generating more leads.
On the other hand, direct mail marketing involves engaging with individual customers, which means that you already likely know their problems. You can use direct mail to send targeted messages, and it's one of the best methods to close sale deals with customers.
Direct Mail Marketing Allows You To Track Promotional Campaigns
The ability to track marketing campaigns is essential to the success of your real estate agent company. It ensures you only focus on the most promising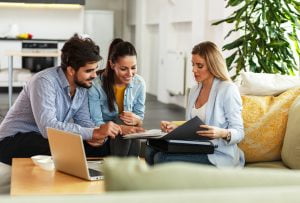 prospects. For that reason, you won't waste time and money trying to engage with people who won't sign a contract with you. That's where the power of direct email marketing comes in.
After receiving your emails, any customer interested in working with you will likely respond to you. This allows you to only focus on what works best, thus saving your budget.
Direct Mail Marketing Enables You To Save Time And Money
Time and money are two critical resources for your real estate agent company. However, you must utilize them more effectively.
Some real estate agent marketing campaigns can take much of your time. You can spend several hours developing promotional campaigns and publishing them on different channels. Besides, promoting your services through radio, television, and magazine platforms can cost you money.
Direct mail marketing does require a lot of investment. For instance, you might not need to buy and install some expensive marketing software. You only need a computer and a printer.
Aside from that, writing emails or pitches will take you less time than when opting for other marketing methods. You may want to save time and money by investing in direct mail marketing.
Lets You Establish Long Relationship With Customers
If you're looking to run a successful real estate agent company, you must strive to develop strong ties with customers. Only by building robust relationships can you have repeat sales.
In addition, when you create a solid customer base, you'll likely get more clients in the way of referrals. This also increases your chances of making more revenue.
One of the best strategies to establish long relationships with customers is direct mail marketing. Why? Because direct mail is tangible and provides a personal touch. However, you must ensure you're doing it in the right way.
Takeaway
Marketing is the best way to connect with many customers and grow your real estate agent firm. It helps create visibility or awareness of your services, and this should be one of your top priorities for your real estate business.
Although you can consider most other marketing strategies, sending direct mail can have more benefits, as seen in this article. However, you must ensure you establish a comprehensive marketing strategy. Besides, it'd be good to work with the most suitable and reliable direct mail service provider.
---