The Future of Digital Marketing in the Global Real Estate Industry
Go Back To Previous Page
---
How to stay ahead and create a marketing strategy with longevity.
Top-quality digital marketing is a tool that real estate agents, developers, and investments cannot do without in today's world. Whether or not you're staying abreast of the latest trends and developments in this particular field, you can rest assured that your competitors will be. To remain ahead of the curve and attract relevant clients that will buoy you up as a business, you need to know which of the most effective digital marketing approaches are here to stay and which will serve you best as a company.
This article explores a number of the top global trends in digital marketing and online promotion. We help you stand out against others in your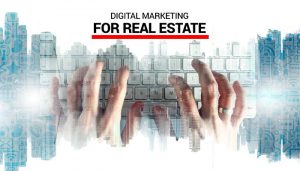 field. We help you develop a strong strategy for the years ahead.
We'll begin by examining some of the more popular techniques that continue to make waves in the marketing world.
We will finish with a brief look at your ongoing strategy.
Personalization and the Customer Experience
Marketing in all its forms focuses heavily on customization and individuality as a significant trend. The clever promotion of choice and flexibility is essential to attracting discerning clients. Therefore,  many are willing to pay more to get exactly what they want.
It is definitely worth using ethically-collected first-party data to target relevant users. You can determine which of them will show interest in the specifics of what you do. It would help research the specific areas where these potential clients prefer flexibility and personal input.
The more you focus on the customizable side of your professional offering, the more you are likely to appeal to a range of demographics and markets. The challenge here is understanding exactly what those demographics and markets are likely to want from you. So in-depth market research is critical.
For example, Millennials and Gen Z are particularly notable when prioritizing the development of a personal "brand." So it is worth investigating how your organization may be able to appeal in this manner.
The Human Side in Digital Marketing in real estate
Focusing on a unique and personalized customer experience is inherently connected to the growing personal interaction and humanization
trend across virtually all sectors.
These were among the core principles of "influencer marketing." When that trend peaked, storytelling and user insight continued to secure sales in a way like never before. 
Consumers now want to see eye-to-eye with those who run or represent the brands they consider. Many like to get to know the faces behind the slogans. So developing a personal brand to go along with your corporate one can be extremely useful. 
It develops trust among prospective clients and offers a sense of care and investment that no other technique can quite touch. Taking time to promote your brand's ethics and approach to social responsibility can also appeal strongly to a modern market. 
Seeing your company's name connected with major causes and popular movements can work well. But beware of appearing cynical or manipulative, and you must take care to do sufficient real-world work to back up all of your claims.
Social
Social media marketing remains key to a successful campaign, with optimization across platforms becoming part and parcel of a targeted and personalized advertising approach.
Ideally, a variety of content can flow regularly across all streams, with posts tailored to suit each platform. For example, you can post high-quality videos to YouTube and TikTok and attractive images via Instagram or Pinterest. Sell fast house specialists in the UK Property Solvers do this significantly.
You can post news and updates via Facebook and Twitter, although these tools can also share posts from other streams. The intelligent use of hashtags and handles should be employed at all times to make sure each post is seen by its intended target audience.
The content you post on social media should be interesting, relevant, helpful to your followers, and potentially interactive. This will make it more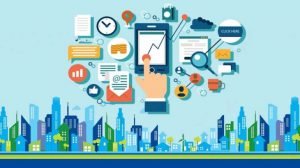 likely for followers to share it with a broader audience.
It's also an excellent idea to carefully curate the individuals and brands that your company follows online. This will enable you to share relevant, up-to-the-minute posts and, in turn, get your content shared far and wide.
Ideally, the quality of your online interactions with other industry professionals may see you positioned as an expert within a particular sector.
This may open the door for opportunities such as interviews and guest blogging – both of which will help you to develop strong backlinks to online information about your products and services.
For the best results, you may decide to hire a specialist social media manager whose job is to manage your streams and research and implement new intelligent social media marketing techniques at all times.
Cutting Edge Technology in Digital Marketing in real estate
Tech and gadgetry is, and will long continue to be, a vast resource when it comes to marketing. Alongside classic keyword optimization, there are plenty of other sophisticated techniques you can use to help your brand appeal to consumers in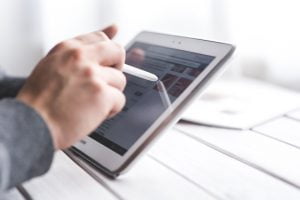 ways that your competitors may not have yet fully explored.
VR and Video
With groundbreaking remote techniques booming in recent years, real estate is the ideal industry to use this approach to its full advantage.
3D tours and VR renderings of properties and individual spaces are now par for the course – and this technology can easily be incorporated into online marketing. VR and interactive visualizations make for hugely dynamic and highly shareable content for businesses specializing in domestic and commercial property.
What's more, this approach can also translate into "real world" marketing approaches. Companies that utilize mobile or portable marketing suites may include a 3D or VR experience to share with potential clients.
Voice Search Optimization
Voice search is another marketing gold mine for almost any business. With smart speaker sales exploding in 2020 and up to 43% of smart speaker owners using the device for shopping purposes, it's an area you cannot afford to ignore.
In Great Britain alone, 23% of people aged 15-34 and the same amount of individuals aged 35-54 owned a smart speaker as of the first quarter of 2020, and that number has increased further since then.
Optimizing your website and its product pages for voice search can help you to reach a vast audience in a manner that is only just starting to gather speed. This means you'll be on the cutting edge, with the potential to gain a considerable lead over your competitors.
AI and Chatbots
Remote working solutions have also experienced a boom during the post-pandemic era, and the real estate industry, in particular, has seen many benefits from technology of this kind.
However, these tools are exceptionally helpful in the practical delivery of work, but they also have great potential in terms of marketing.
Chatbots are among the most popular resources employed by estate agents and other professionals. 
They work wonders for your brand's image by making you contactable 24 hours a day, seven days a week, and enable you to tailor automated responses to include any information you would like to share with potential clients.
Ease of use and accessibility are critical elements of a significant digital presence, and chatbots make this all the more achievable.
They can also speed up the transaction process by presenting a payment method directly to the client and may allow you to direct users' attention to additional products and services from which they may benefit – resulting in a subtle upsell.
In Conclusion
The digital marketing of the future is organic, adaptable, and easily personalizable. After all, Millennials and Gen Z are the up-and-coming real estate clients, and these demographics tend to prefer a personal touch, multi-device accessibility, and flexible communication options.
However, when it comes to voice search marketing, you'll be opening up the field, even more, considering the vast demographic spread of smart speaker users. It is worth noting that marketing trends are highly volatile and will continue to develop and adapt non-stop. Your strategy should never be considered "finished." It should very much remain in a state of evolution.
This is why the application of plenty of time and resources not just to general marketing approaches but to digital and social media marketing may seem like an excessive expense, but it is worth your while.
After all, it is dangerously easy to "drop the ball" in this fast-moving world.
Suppose you and your specialist marketing team can keep track of upcoming trends and develop a keen eye for recognizing which are most suitable for your business and its clients. In that case, you'll be able to beat your competitors to the punch every time.
---