5 Best Birthday Email Examples
Go Back To Previous Page
---
Properly executing birthday emails for marketing can be a game-changer for email marketers. Creating an email marketing strategy focusing on happy Birthday for email wishes for subscribers can potentially impact the brand's recognition. Therefore, it shows the recipient the brand identifies their role as a loyal customer. Organizing the perfect birthday email personalized to vibrate with the receiver's interests can boost the company's consumer satisfaction. Such an email is challenging to create, but with Stripo's well-designed free email templates, you can make the subscriber feel appreciated.
For example, through their Email Editing Tool, you can add more touches like promo codes or other deals to celebrate their special day. The platform offers pre-written subject lines and footers, which email marketing specialists can use on the go.
This article rotates around the perfect happy birthday email examples. It covers why happy Birthday wishes emails are an excellent idea to enhance the brand's outlook.
Prominent Reasons to Send Birthday Emails to Subscribers
First, these hold prime importance for the sender and the company sending them. Here are some basic reasons why sending such emails is critical.
A Happy Birthday Email helps a business stand out from the rest of the competitors. Not all businesses remember their customers on their special day. Therefore, by recognizing your clients on their special day of celebration with a personalized email, you can set yourself above rivals.
This strategy helps keep the brand in the recipient's mind.
It boosts sales through the business's happy birthday message; the firm can propagate and compel customers to visit its e-commerce store. By sharing a link, they can ensure that the customer opens the website and chooses to treat themselves on this occasion.
It makes the subscribers feel the brand is trying to feel extra special.
Customized birthday emails are a cost-effective way for businesses to boost audience retention.
5 Ideal Birthday Email Examples
1.   Stripo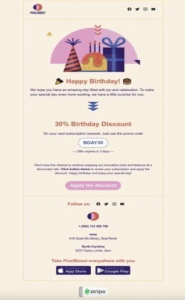 The first and foremost example we have is from Stripo, with over +1400 templates catering to different occasions and requirements. The birthday email template has an informal tone and a personal touch due to the use of visually appealing images and GIFs.
To ensure that their customers can utilize their services without interruption, they favor providing them with substantial discounts. A 30% discount is offered here in bold text, which adds to its appeal. A discount code of "BDAy30" is then provided immediately after. Next, a call to action (CTA) is shown so that the customer may quickly and easily put the discount code to use.
After the email, they neatly include all of their contact information. This email is created on a lighter backdrop with striking font colors on the front to look fun and user-friendly.
2.   FitBit
The Happy Birthday email sent by Fitbit is an excellent example of uniform branding. They encourage the receiver to "have their cake and eat it, too." For additional information on ways to celebrate their special day with physical activity, there are links to a blog article included.
In the main text, readers are updated on the fitness and sleep habits of Fitbit users of a similar age. The CTA urges the birthday person to visit the Fitbit website and see their
statistics.
This is a celebratory birthday email that doesn't rely on an offer to get the user back to the Fitbit site. They add sparkling images to the site to make it look more appealing to the receiver.
3.   BirchBox Birthday Email Example
Readers are more likely to purchase if discounts are offered. The subscription service BirchBox, specializing in cosmetics and personal care, takes this route by reducing the next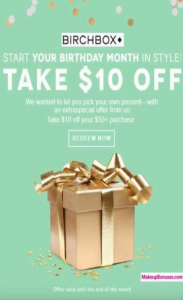 order of $50 or more by $10 for each subscriber.
Subscribers may take advantage of the deal by using the code "BIRTHDAY" at checkout. This attracts readers and makes saving easy. To get the reader's focus, it combines eye-catching images, such as a bright green backdrop and golden in the front. It helps make the subscribers feel more connected to the email and avail of the offer.
4.   Sephora Birthday Email Example
Sephora is a major player in the cosmetics industry, backed by a sizable fan base and considerable reputation. In addition, their email marketing and sample "happy birthday" emails are top-notch. Numerous online merchants see this as a positive move.
The email is addressed directly to the recipient by name, which makes it seem unique. A member may choose from a variety of tempting birthday-month gift options. To draw new subscribers, many companies offer discounts, but only a select few, like Sephora, offer gifts.
5.   J.Crew Factory
Lastly, we have the J.Crew's fun-filled confetti Birthday email. Its background looks festive with the animation created. They have used a lively subject line to create a first-line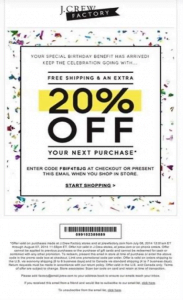 impact on the customer reading it.
Next, it offers a massive 20% discount, which deviates from being a generic email. They also provide free shipping to make customers feel important on their Birthday.
Concluding Note
Email developers use different approaches to cater to a comprehensive set of audiences. Birthday emails are one of the most innovative ways to attract subscribers by making them feel important. Adding a happy birthday image for email adds to its overall look. We hope this article covered the five different birthday email examples for you.
---