Most Dangerous States in the US in 2023
Go Back To Previous Page
---
The United States is a vast and diverse country with varying crime rates. Here are the top ten most dangerous states based on violent crime rates between 2020 and 2022.
When discussing the most dangerous states in America, "dangerous" can refer to high crime, natural disasters, and poor health outcomes. Therefore, this article will focus on crime rates and types across states in the US. It's essential to stay informed about crime rates and take appropriate precautions. We will discuss the most violent states in the US in 2023.
Be aware of various types of crime, avoid potentially dangerous areas, remain vigilant, and report any suspicious activities to authorities. Before visiting or moving to an area, research the crime rates to ensure safety and peace of mind.
Crime Rate Analysis by State in the US
The diverse United States houses many cultures, and crime rates vary by state. We will analyze 2023 crime rates to determine the safest and most dangerous states. We will categorize the crime as violent or property to help evaluate safety for living and traveling.
When analyzing crime rates, several factors have a considerable influence.
Poverty rates. Because when poverty is high, theft, burglary, and violent crime all increase.
Drug abuse. Where people use drugs, robbery, and assault also grow. The US opioid crisis is of particular concern.
Gangs. This brings more shootings, stabbings, and aggravated assaults
Easy Access to guns. Easy Access to guns means more gun violence and homicide rates.
Crime rates vary significantly within states, with urban areas usually having higher rates.
The southern and western regions have the highest violent crime rates, while the northeast and midwestern regions have lower rates. It's important to note that poverty, education, and drug addiction rates affect a state's overall safety.
1. Alaska is among the Most Dangerous States
Alaska has the highest violent and property crime rate in the United States, with 32.14 per 1,000 people in 2023. Aggravated assault and sexual assault are among the most commonly reported
crimes in the state. Alaska gathers some of the most dangerous cities in America.
2. New Mexico 
New Mexico consistently ranks among the top states in the US for violent crime. Albuquerque, Gallup, and Farmington are some cities with the highest crime rates.
3. Tennessee
Tennessee has a population of 6,917,000 and a crime rate of 31.65 per 1,000 people. In 2023, there were 221,000 reported criminal incidents, with property crime being the most common, including burglary and personal theft. Despite being a growing and changing state, cities like Memphis and Nashville still face high violent crime rates.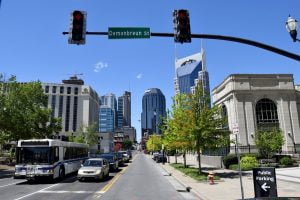 4. Arkansas
Arkansas has a high rate of violent and property crimes. In 2023, the state's violent crime rate was 672.7 per 100,000 population, meaning residents have a 1 in 148 chance of becoming crime victims. Property crime is also prevalent, with residents having a 1 in 38 chance of being a victim of theft.
Cities with the highest crime rates include West Memphis, Little Rock, and Helena.
5. Arizona
Arizona boasts beautiful national parks but also faces high crime rates. Scottsdale is relatively safe, but Tempe and Phoenix have unsafe neighborhoods. According to the FBI Crime Data Explorer data, violent crime in Arizona rose by 8.6% between 2022 and 2023.
Robbery and assault were the most common crimes. They total 32,201 incidents, while there were 504 murders in the state. Arizonans have a 1 in 199 chance of becoming a victim of violent crime.
6. Louisiana 
Louisiana has a high crime rate, with cities such as Shreveport, Baton Rouge, and New Orleans ranking above the national average for violent and property crime. In 2023, the crime rate in New Orleans was 150% higher than the national average. Property crime, such as burglary and motor vehicle theft, was also well above the national average at 29.71 per 1,000 residents in 2022.
7. Missouri 
Missouri's high crime rate is concerning, with 723 murders and 543 violent crimes per 100,000 residents in 2023. St. Louis has an alarming crime rate, 234% higher than the national average.
8. South Carolina
South Carolina has a high crime rate, with 5.4 crimes per 1,000 people compared to the national average of 4. Violent crimes are particularly prevalent in the state, with 22,000 robbery cases reported in 2023 and 549 murders.
9. South Dakota 
South Dakota's crime rate is high despite its small population of 895,376. In 2022, the state's violent crime rate was 5.05 per 1,000 residents, resulting in a 1 in 198 chance of becoming a victim. Murder and rape rates exceed the national average, with over 3,000 assaults occurring in 2023.
Drunk driving arrests and fatalities are also high, with South Dakota having the second-highest rate nationwide.
10. Michigan 
Michigan was the 10th state in the US with the most violent crime in 2020, with over 40,000 incidents reported, resulting in 4.73 per 1,000 people. Both violent and property crimes have increased statewide.
Detroit, Kalamazoo, and Saginaw have the highest violent crime rates. In 2021, Detroit reported 14,509 murders, far surpassing other similarly sized cities.
Most Dangerous States in the USA Bottom Line 
Crime rates vary within and between states. These states have the highest crime rates, but safety varies by town and neighborhood.
Methodology For Ranking the 
Most Dangerous States in America
To determine the most dangerous states in America, we analyzed crime and violence per capita using state and federal data sources, such as the FBI Uniform Crime Report and other official sources. The statistics presented by law enforcement and data from the FBI are for 2020, 2021, and 2022.
---